Think casual, yet high-energy bar and restaurant with a bit more flair. Features like happy hour every day, rotating local brewery beer taps, signature cocktails, and live entertainment are a few things you can expect to find at our Bally's location — and of course our creative and tasty menu."     John Connor, General Manager — Water Dog
By Molly Golubcow
Water Dog – Unleashed
It may be a "bone" of contention, but restaurants have been known to "bark" loudly about the quality of their food. Some places start with something trendy, but in a short time, peter out with their "tail between their legs." However, there's a young "pup" in the Atlantic City area that has "unleashed" culinary excitement in multiple locations in a relatively short time. So, who's leading the local restaurant "pack" featuring good food, unique combos, and people-pleasing service? Hands (or paws) down, it is Water Dog - originally in Ventnor and now at Bally's Hotel & Casino in Atlantic City as well.
Sibling Love
Since 2019, Water Dog Smoke House has wowed the downbeach area featuring freshly smoked fishes and meats on a variety of sandwiches.
From a breakfast option like "The Beast" – a double house-smoked nova on a bagel to a lunch favorite like "The Lois" – warm roast brisket served with horseradish sauce and coleslaw on rye, Water Dog offers unique and creative menu items. In the Fall of 2021, founders Steve Marchel and Dan Greenberg decided to take the success from their Ventnor location and open a sister store, Water Dog AC.
And, what a decision it has been. To start, the Atlantic City location will seat 200 dining guests, as opposed to the 60-seat Ventnor location. The 8,000 square feet open-floor concept, including a 35-seat sleek bar, offers Water Dog fine quality food and then some - live music, big-screen TVs, as well as local beer options. Although the Bally's location adds a new layer to the Water Dog concept, the restaurant intends to replicate the look and feel that made the Ventnor location a success.
John Connor, General Manager, explains how the possibilities at the new site were evident from the beginning, "Our brand was built to be scalable and the new space and decor were only limited by our imagination. We were excited to brand the space, even though the scale was exponentially large - Water Dog signature orange, along with a black and white color scheme, with a vision of a modern café design that includes a gorgeous bar at the entrance."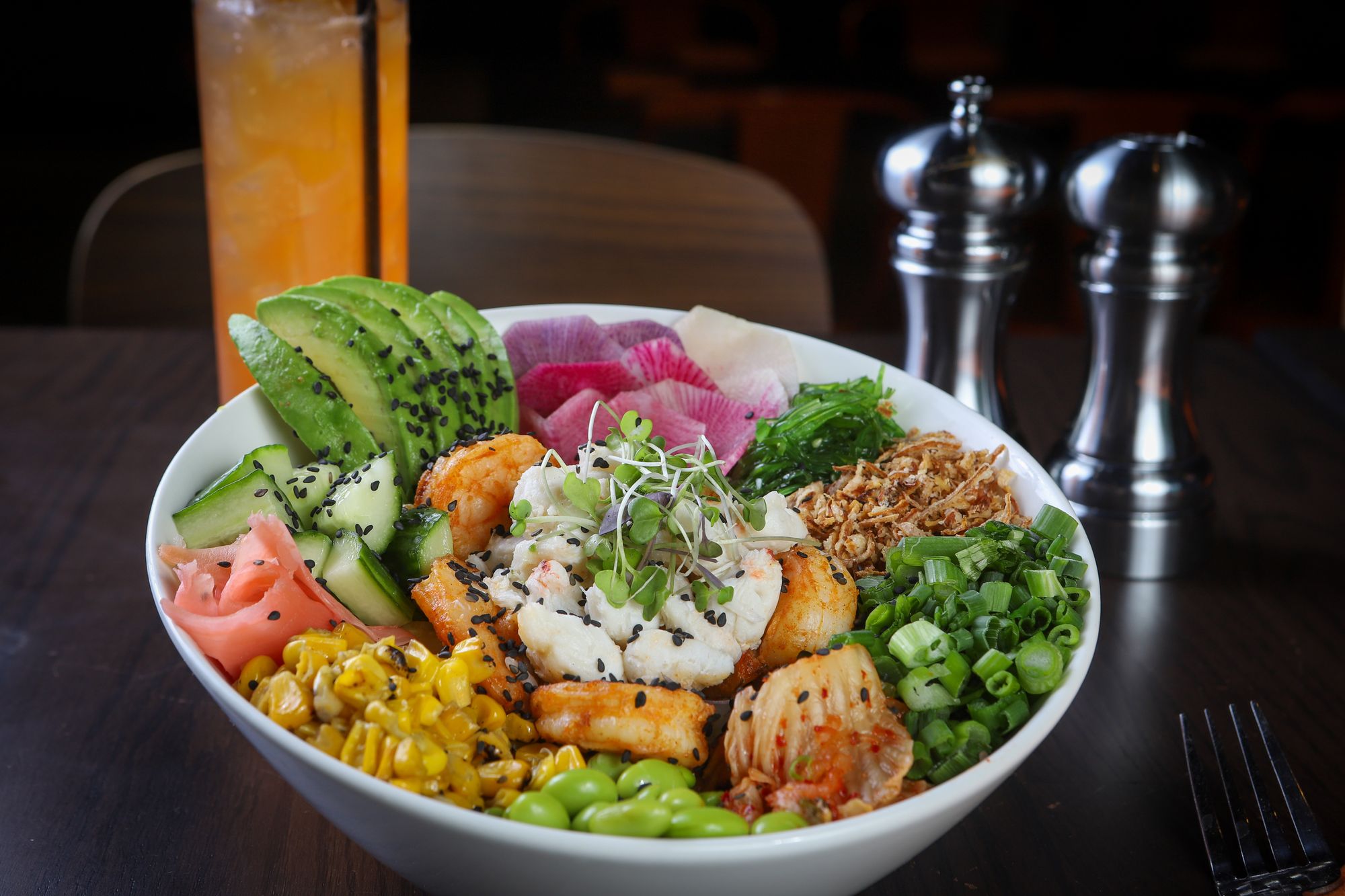 Old and New
Whether dining at the Ventnor location or at Bally's, loyal Water Dog fans and new ones can expect to be wowed. For a great place for friends to meet for a drink, the signature bar can wet anyone's whistle! The cocktail and beer offerings not only focus on creativity but value as well. For example, one of the Betty Bags concoctions that is a must-try is the Mummers Punch – made with love with Stateside Vodka, St. Germain Elderflower, homemade Yuzu juice, sage, and club soda. And speaking of cocktails, remember to give Water Dog AC a try for Happy Hour food and drinks every day from 4:00-7:00 PM. If you are more of a night owl, enjoy drink specials only available between 10:00 PM-1:00 AM.
In addition to the variety of available drinks, the Water Dog AC menu has broadly expanded from the Ventnor breakfast/lunch options to accommodate large meals and a late-night scene. Got the munchies?
Try the Water Dog Chicken Fingers & Fries - house breaded served with your choice of sauce - BBQ, Buffalo, or Thai Chile. Regardless of your choice, day or night, all offerings strive to retain Water Dog's signature generous portions and emphasis on creative flavors.
Selections, Selections, Selections
When dining at Water Dog, sharing is highly suggested! After all, with such a variety of choices, it's a great way to "lap up" all that Water Dog wonderfulness. One great option that screams Water Dog is one of the loaded Poke Bowls. On a bed of white or brown rice, select your meal of delicious options like Ahi Tuna & Salmon with Ponzu or Shrimp & Chicken with Kimchi Aioli – all topped with avocado, watermelon radish, edamame, pickled ginger, scallion, and more.
Other dinner selections include Lemon Roasted Chicken, Crab Cakes – with a Water Dog vinaigrette, or a classic New England style, no filler, Lobster Roll on a sliced brioche roll served with fries. And speaking of fries, try some of the Water Dog sides including Truffle Parmesan Fries, Kimchi, or a Boursin Chive Potato.
Running with the Big Dogs
From Ramsay to Garces, Atlantic City continues to tout a long list of world-renown chefs and restaurateurs. However, Water Dog feels very confident that they have a menu that will impress. Connor believes that the variety, quality, and value at Water Dog make them unique. "Where else can you get a killer Lobster Roll, slow-cooked brisket sandwich, a perfectly cooked Filet Mignon, or a bangin' Poke Bowl on one menu? Throw in our craft cocktail list and we're ready to go toe-to-toe with the better-known names. We say, "bring it!"
Please note that Waterdog has since closed at the Atlantic City Location. But you can still get all your favorites at their Ventnor location.
Comments