Building Bonds through great hospitality.
By Molly Golubcow
Friendships formed in childhood that last into adulthood make for a special bond – trust, loyalty, and camaraderie. Ventnor pals, Elvis Cadavid and Tom Harris are the poster children representing that kind of special relationship. After graduating from Atlantic City High School, both went on to work in the casino, restaurant, and bar industry in a variety of positions - giving them ample experience in all areas of running a successful food business. Then, the infamous Super Storm Sandy hit the Jersey Shore. At the time, Cadavid was bartending at the Vagabond in the Chelsea Heights area of Atlantic City. When the owner decided to sell the place after the storm in 2013, Cadavid reached out to Harris and asked his friend if he wanted to invest in the business. The answer was a resounding yes, and Vagabond as we know it today was born!
I'll Have What She's Having
The food and drink at Vagabond have gotten some attention – lots of attention, actually. The website, Best Things in NJ.com, voted Vagabond one of the best bars in the entire state in 2015. In addition, Best Things also voted Vagabond as having one of the best hamburgers in New Jersey.
What goes into making a hamburger that gets that much attention? Julie Craig, Special Event Planner & Marketing for the Atlantic City Vagabond, lets us in on some secrets, "Vagabond's burgers are known for their massive size and creative combinations. Each juicy 1/2-pound burger is a combination of 80% chuck, 10% brisket, and 10% short rib. Burgers are seasoned to perfection and grilled to order." For example, the Spicy California Burger - topped with avocado, smoked maple pepper bacon, lettuce, tomato, caramelized onions, and spicy ranch on a brioche bun - is one of the most popular menu items.
In 2016, Vagabond was featured on Diners, Drive-Ins and Dives. Host, Guy Fieri, selected three items for the "Between the Bread" episode: the Turkey Apple Brie Sandwich - roasted turkey, granny smith apples, brie cheese, and sweet smokey pepper jam on grilled walnut craisin bread, the Three-Way Sandwich - brisket and pulled pork in a homemade BBQ sauce with smoked maple-pepper bacon topped with homemade slaw on a brioche bun, and the Tequila Shrimp Bangers - crispy jumbo shrimp, tossed in a tequila banger sauce over a bed of mixed greens drizzled with raspberry vinaigrette. According to Chef Tino Guzman, having Fieri in the Vagabond kitchen did not make him nervous at all. On the contrary, he was "…very confident that we would get Guy's stamp of approval on these three menu items."
After the initial airing in January 2016, a coastal storm hit the area and Vagabond closed for one and a half days. However, Craig remembers that the "…second the doors opened, we were packed with customers from all over coming to taste Guy Fieri's latest featured restaurant. Diners, Drive-Ins and Dives has truly been an amazing experience for Vagabond, and continues to be a source of pride."
Location, Location, Location
No doubt, food and drink make a restaurant. However, ambiance and views add icing to that cake. Located on West End Avenue in Atlantic City, Vagabond offers unobstructed and breathtaking views of the bay - especially stunning at sunset all year round. During the 2020 Covid shutdown, Vagabond took the opportunity to add the Mile Stretch Beer Garden to their location expanding outdoor dining and drinking options.
Off the island at a second location, Vagabond EHT, boasts sweeping views on the grounds of McCullough's Emerald Golf Links.
The restaurant offers a covered outdoor patio that allows for year-round seating. Guests can overlook Miller Pond and the 18th fairway while sharing a plate of Vagabond's Extreme Nachos and one of the many available stellar beers.
Regardless of location, Vagabond stays true to its promise – good food, good drink, and good fun. Craig sums up the Vagabond brand, "Both locations are known for friendly service. Our regulars frequently become friends. With lots of big-screen TVs throughout the bar and restaurant, we are known for being 'the place' to watch the game."
The menus at both locations are similar offering signature dishes no matter which restaurant you choose. Whether facing the bay as the sun sets or taking in the rolling greens, Vagabond offers its unique friendly vibe in either location where "everyone knows your name." For example, Joyce Mickles, Northfield, New Jersey, is a happy and returning customer. In addition to her favorites – Turkey Burger and French Onion Soup, Mickles enjoys the atmosphere. She explains, "From the minute I walk into Vagabond, I am greeted by friendly staff and served good food – like those garlic parm Brussel Sprouts!"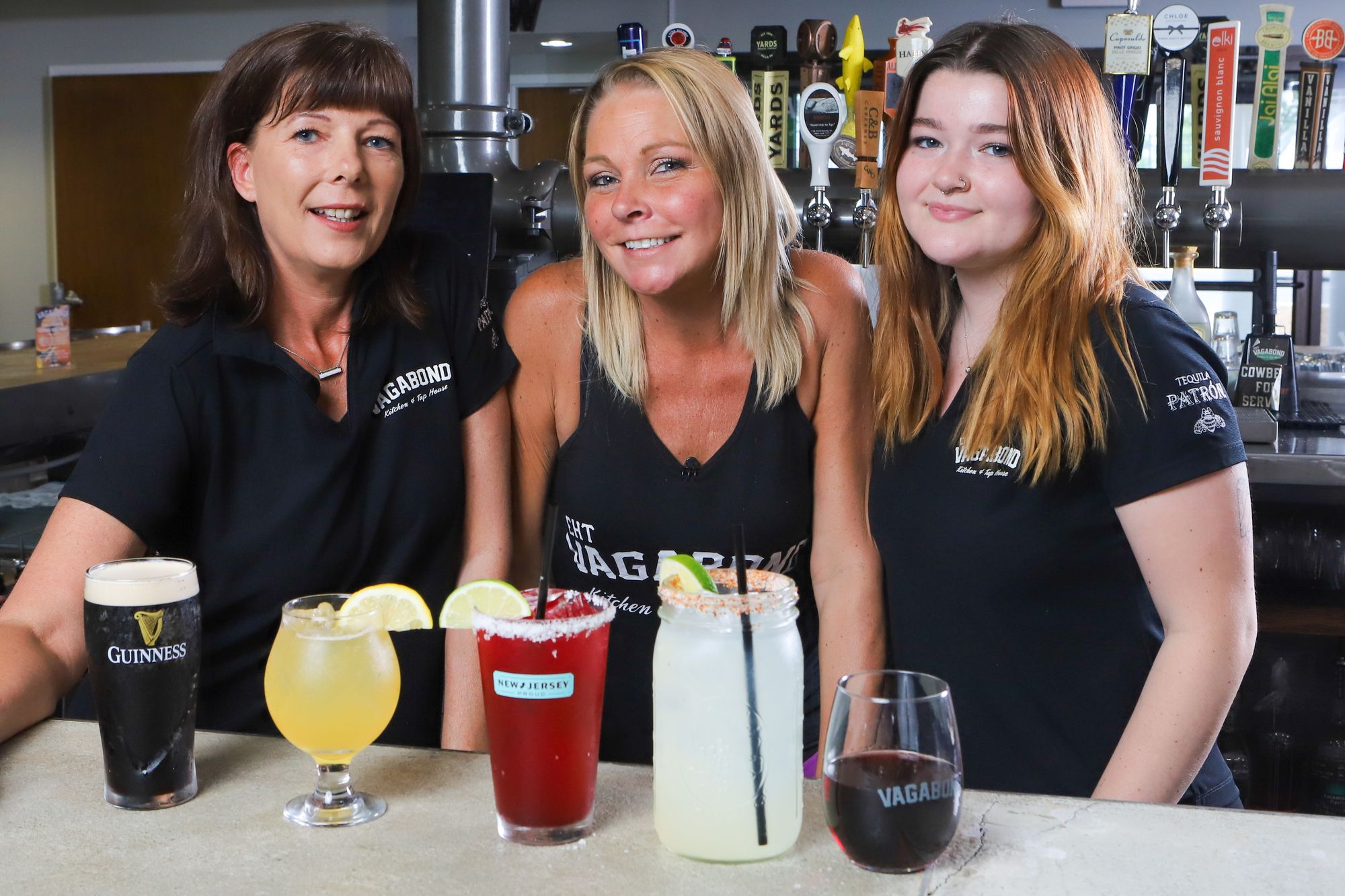 Know Your Roots
Most Vagabond staff members are Atlantic City and Ventnor locals. Even the menu items reflect their ties to the area like the Viking Burger – named after the owners' Alma Mater, Atlantic City High School. When Cadavid and Harris opened Vagabond in 2013, the local community was a huge support in establishing the restaurant as a go-to place in Atlantic City. In the name of giving back, they established Vagabond Charities, Inc. as a non-profit organization to support local community needs.
According to Craig, the biggest fundraiser of the year is the annual Vagabike Bar Crawl held in the fall. Participants check-in at Vagabond and embark on a bike crawl down the Atlantic City Boardwalk with pre-planned sponsor "pit stops." The event draws 300+ participants and proceeds to support the Vagabike Scholarship program. In October 2021, Vagabond Charities, Inc. awarded $8,000 in scholarships to local undergrad students.
Upcoming events on Vagabond's calendar offer something for everyone including the 2nd Annual Scavenger Hunt in February – partnering with the neighboring Wonder Bar and the Ducktown Tavern to benefit Coats for Kids/Operation Warm. In addition, the annual Sip, Savor, Support Event to benefit Cancer Support Community New Jersey at Gilda's Club is scheduled for March 2022.
Comments