By Molly Golubcow
Whether in plastic take-out containers from a local grocery store or a formal sit-down dinner offering the freshest pieces of blue-fin tuna, sushi has become synonymous with a culinary art form. Masaharu Morimoto, Japanese Iron Chef, once said, "I'm not making art, I'm making sushi." If the vinegar-flavored rice is the canvas and the vegetable and raw seafood garnishes are the paints, each bite becomes a masterpiece for your tastebuds — especially with a dab of wasabi and pickled ginger (gari) to add some pizazz!
In the United States, the sushi restaurant sector reached over $22 billion in 2019 — a clear sign that Japanese cuisine rates high as a popular eating option. From coast to coast, you will hear people say, "Let's go out for sushi…"
Why? It's fun, sharable, colorful, and a healthy dining-out alternative. The Atlantic City area offers many options for the sushi lover. Let's sample a few — so grab your chopsticks!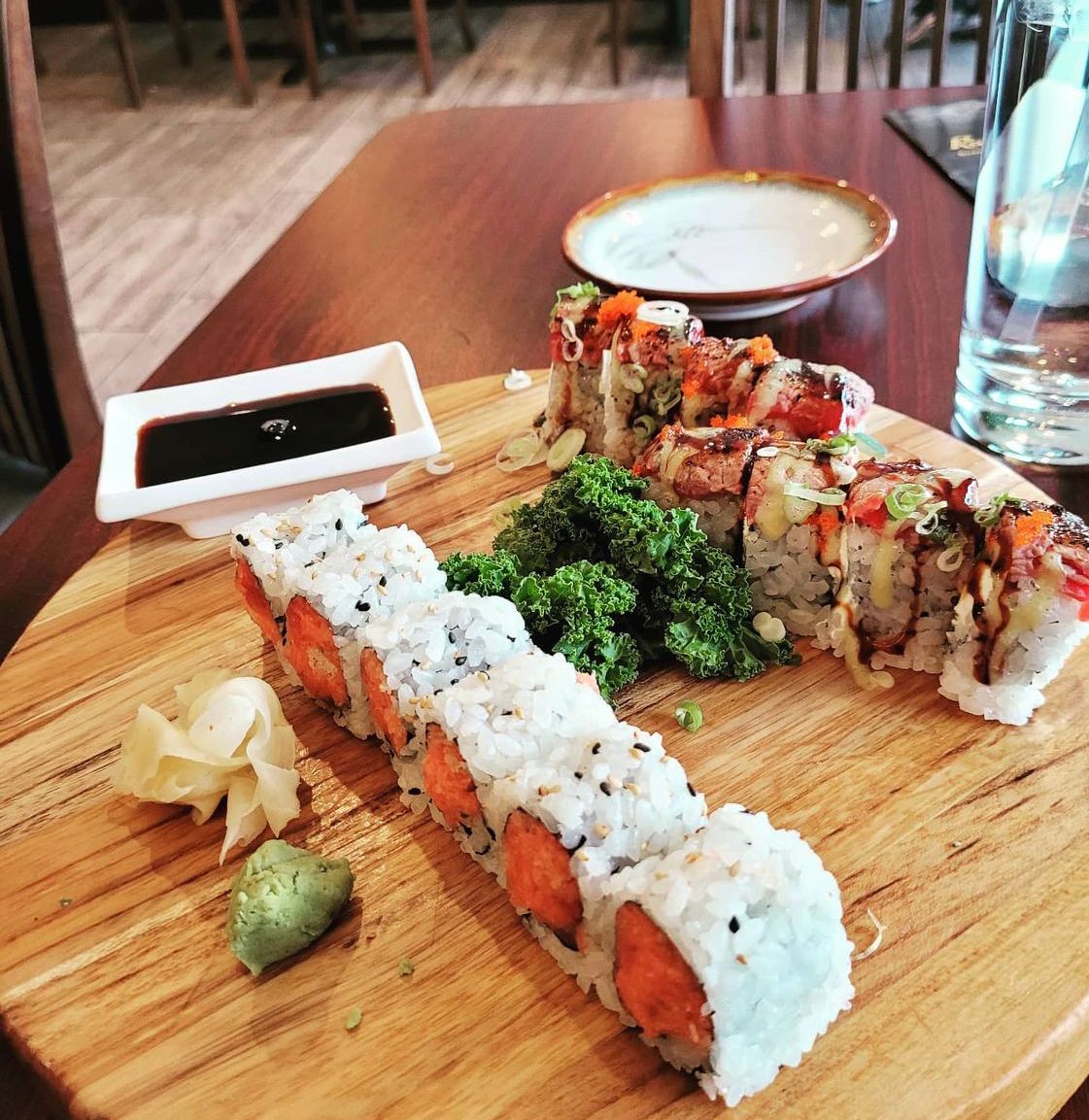 Atlantic City
In Japan, Izakayas are bars serving small dishes and snacks that pair well with sake or beer.
Chef Michael Schulson gives diners a taste of the Far East offering many options, including sushi rolls and signature sashimi, robatayaki (Japanese-style barbecue), and sake, of course.
Check out the Monday Menu offering $7.00 Izakaya specials on rolls, small plates, and more!
If you like sushi with a contemporary artisanal twist, Kuro is for you. In addition to a long list of sushi options, the menu boasts innovative other Japanese faves like a Tuna Avocado Bowl — yuzu, black garlic ponzu, and wasabi, or a variety of Robata Charcoal Grills including sesame seed and aonari Wagyu Lollipops.
Kuro offers vegetarian and vegan options, as well as tempura for the non-sushi friends in your party.
Known around the world for its style of Japanese cuisine, Nobu features signature dishes such as Black Cod Miso and Rock Shrimp Tempura. In addition, you can watch skilled chefs craft their specialty dishes at the sushi bar. For a fun twist on sushi, try the Nobu Tacos — tuna, salmon, caviar, and more.
Pair your sushi selection with a bowl of Japanese soup — Miso with Tofu or Spicy Seafood.
Ventnor
From sushi to sashimi, Yama is on point! Choose from over 15 Sushi Bar entrees like a Maki Combination (tuna roll, salmon roll, & California roll) or something shareable, like the Love Boat for 2 (10 pieces of sushi, 21 pieces of sashimi, a California roll, and a chef's special roll). For the veggie sushi lover, the AAC Roll — Avocado, Asparagus, & Cucumber is a favorite.
Can't decide on one option? Try one of the Bento Boxes such as the Beef Negimaki, Salmon, Yakitori, Spicy Tuna, and Spicy Salmon.
Looking for sushi and sashimi to please any palate? Rainbow, appropriately named, offers a colorful array of options. Signature rolls include The Volcano — steamed shrimp topped with baked and spicy crabmeat. Sashimi specials like the Triple Delight (salmon, tuna, & yellowtail) or the Sweetheart Roll (shrimp tempura wrapped in avocado and spicy tuna in soybean paper) come with miso soup and salad.
For the sweet tooth, try one of the Rainbow non-dairy smoothies — Mango Strawberry or Green Tea with Red Bean.

Margate
In addition to its eclectic menu, lively bar vibes, and stunning bay sunsets, Tomatoe's rocks with its renowned sushi bar.
Specialty Rolls, named with a local flair, include the Bay — shrimp tempura, spicy tuna, and topped with eel, and the Atlantic City — a spicy California roll — topped with shrimp.
Tempura fans will enjoy options like the Spicy Veggie — tuna, shrimp, crab, and spicy sauce.

Brigantine
A family-owned restaurant, Yuki Hana is all things sushi.
Beautifully arranged Love Boats for sharing can include Sushi & Sashimi for Two — pieces of sushi and seven kinds of raw fish, plus a dragon roll and a spicy tuna roll.
Locally named rolls include the Borgata Roll — Shrimp tempura and mango topped with spicy crunchy tuna, crispy kani, and special sauce, or the Brigantine Roll — Asparagus tempura, spicy kani, and avocado with spicy tuna and crunch on top.
Check out the appetizer menu — from Edamame to Gyoza dumplings, there is something for everyone.
Comments