Nestled in the corner building on Adams and Ventnor Avenues in Margate, NJ, Saltwater serves up Italian food – authentic and family friendly. Whether a small batch of square Mushroom Rosemary pizza or an order of the heftiest (but fluffiest) homemade gnocchi in town, Saltwater serves up perfect plates – with just the right blend of seasonings.
And, speaking of the right blend, owners David and Lori Salvo epitomize the ideal pair to run a restaurant. Chef David worked for his father as a teen and opened bars and restaurants in his early adult years. Lori, a local realtor, compliments her husband on her sense of business. Lori explains with a wink, "What are the two things that people always talk about while relaxing at the beach: real estate and food!"
As a result, the Salvos create Italian dishes that would get blessings from any Nona! And speaking of Nona, any self-respecting Italian grandmother knows that pasta needs to be boiled in salted water that tastes "…like the sea." Add that culinary concept to the fact that the Salvos live in a beach town and you get the name of their restaurant – Saltwater, of course.
Let's Start With The Pizza
To make authentic pizza that is Saltwater approved, the Salvos start with fine quality ingredients, mostly imported from Italy. Then, they hand mix small batches of dough in bowls that are scattered around the restaurant - the old-school way never ever using a mixer. Salvo explains why they pride themselves in ensuring quality, "We never forget that we are only as good as our last pizza."
When Saltwater first opened its doors four years ago, the Salvos decided to serve square pies because it was something different, and "they simply love it!" For example, the Italian Vegetable is a white Sicilian pie covered with roasted and sautéed peppers and grilled eggplant with a balsamic drizzle. If you're thinking of a too-thick and doughy Sicilian, fugget about it! Whether red or white, their square pies are just-right and crispy thick like Sicilian, but amazingly light and airy.
For the 2023 season, Saltwater plans to add a new menu item - round pizza pies. Although they are a bit smaller than their square cousins, the Salvos are making sure they keep them "just as light, airy, and full of flavor." For example, red pie selections include Pepperoni, Tomato, or Prosciutto. As for toppings, you can expect to choose from the usual suspects like sausage or veggies, but Saltwater "tops" that with options like long hots or arugula with shaved Regiano Parmigiana.
Although toppings are popular, the pizza itself is the foundation. Salvo explains how sometimes less is more, "The simplest food is the hardest to make, and we are always on a quest for deliciousness, so our favorite pizza is the simplest one, the old school, just amazing crunchy crust, topped with our Marinara sauce (tomatoes crushed by hand) then drizzled with the best extra virgin olive oil and a light dusting of Pecorino cheese."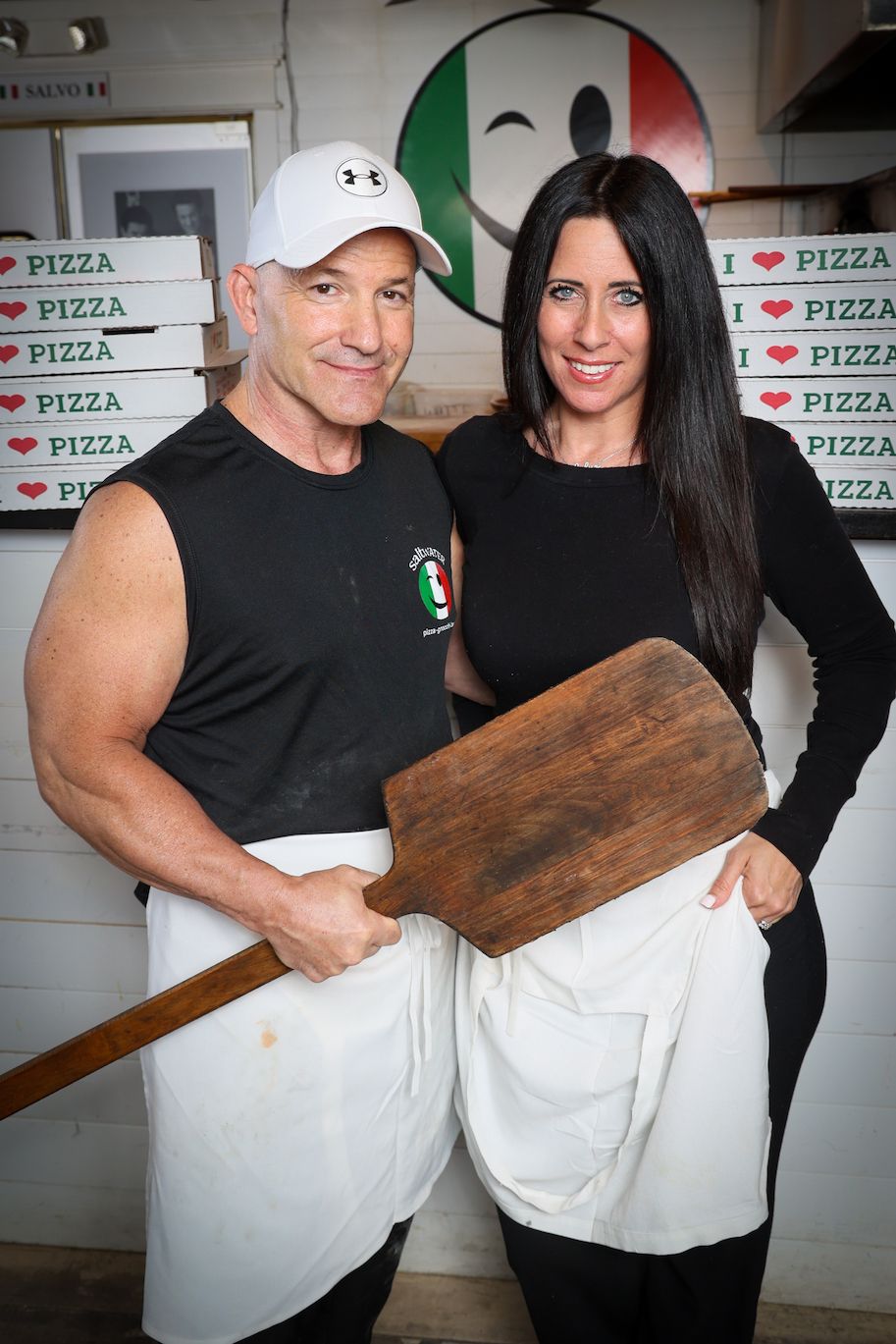 Clouds of Gnocchi
What happens in Saltwater's kitchen, stays in their kitchen! So, don't bother asking how they manage to make their gnocchi as fluffy as clouds. Salvo elaborates, "We always do things just a bit differently and it's simply the way we like them!" Normally, the ricotta-filled pasta bites are about an inch long – about a knuckle's length. Interestingly enough, the word gnocchi is derived from nocca, meaning knuckle in Italian.
Jennifer Seak, a Saltwater loyal fan, just loves the homemade gnocchi. Regardless of the choice – the Passelli with Proscuitto & peas in a blush sauce or a plain marinara sauce, she is enamored with each bite. Seak explains, "They are so delicate – like pillows of heaven."
Another Saltwater gnocchi admirer, John Valenti, offers up the highest of praises, "The gnocchi was wonderful – light as a feather. They were right up there with my mother's!"
Sauces that accompany the gnocchi are plentiful.
For example, try the Toasted Gnocchi appetizer - baked golden brown served with a side of blush dipping sauce. Other options include Ragu, for the meat lover - marinara sauce with turkey, meatballs, and sausage. Another favorite is the Sicilian Red - hot peppers, Sicilian olives, capers, and eggplant. And, according to Salvo, the Gnocchi Blush has "…a cult following on its own."
Dine-in · Takeout · No delivery
9401 Ventnor Ave, Margate City, NJ 08402
Summer Hours:  Opens at 1 PM
Menu: saltwatermargate.com
Phone: (609) 289-8078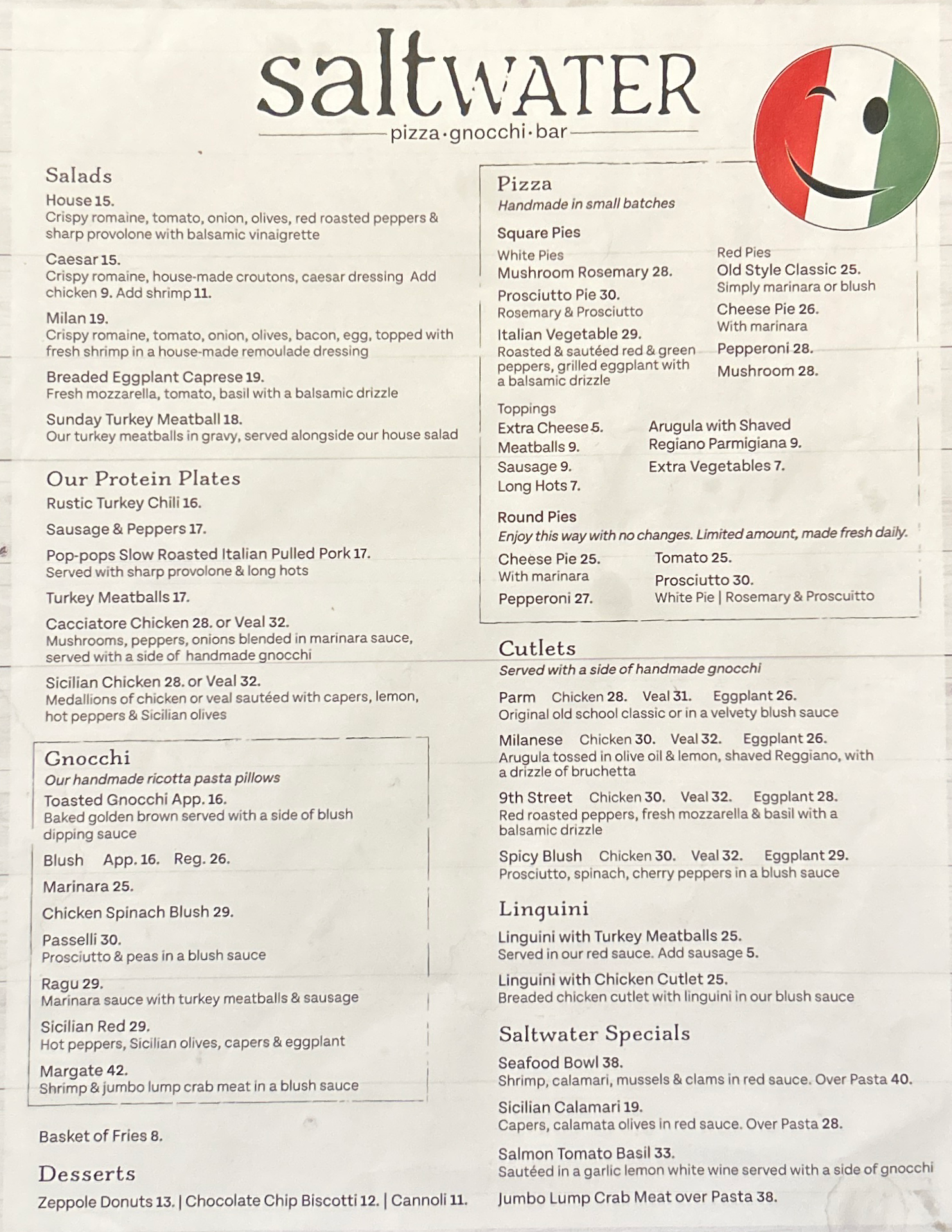 Comments