By Molly Golubcow
The Ever-Blossoming Girasole
Sunflowers exude warmth, summer, and golden. For centuries, poets have described their beauty with words and artists have painted them on canvas. Over 30 years ago, Gino Iovino, while travelling through his native Italy, noticed miles and miles of sunflowers (girasoles in Italian) blossoming as far as the eye could see. For Iovino, the bright beautiful flowers stretching towards the sun each day and lowering themselves at sunset were mesmerizing.  That was the seed, so to speak, that eventually led to the name of the restaurant that he would open in Atlantic City – Girasole.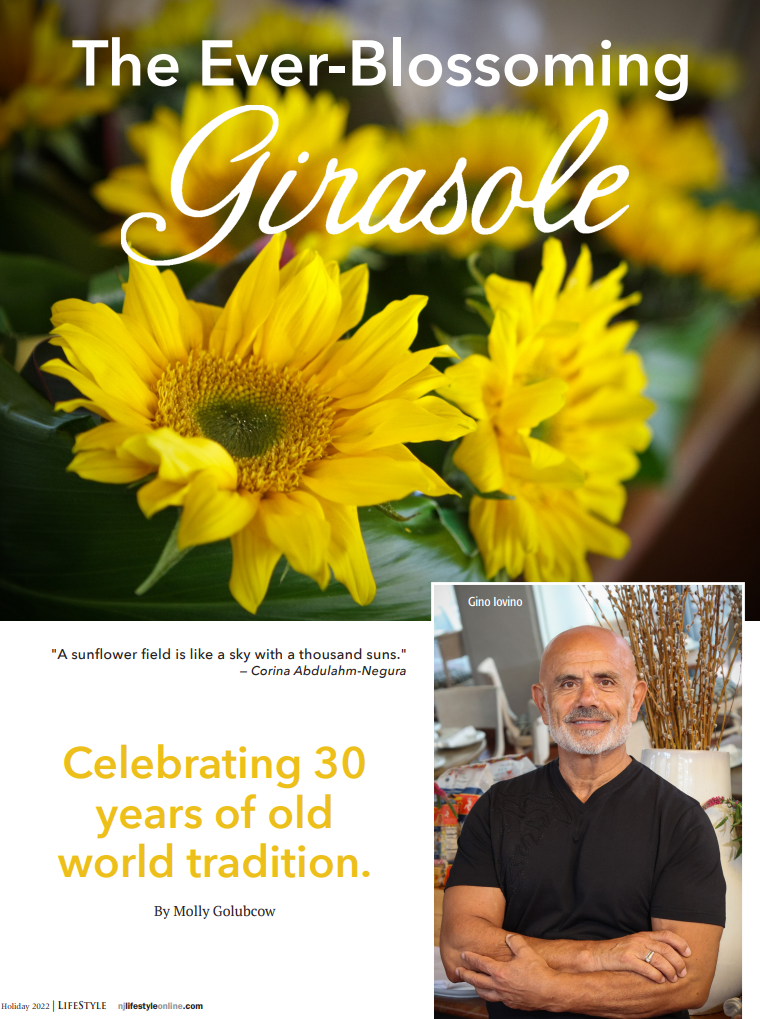 Now in its third decade, Girasole stands tall proudly serving traditional Italian dishes with a contemporary touch. From appetizers like Polpo – slow baked bay octopus in a sauce of black olives, fresh tomato, and rosemary to signature pastas – all homemade, Girasole remains an Atlantic City favorite.  Iovino reflects on the continuous success of his restaurant, "Girasole remains consistent and passionate about top quality ingredients. We stay on top of changes in this evolving world. Our restaurant takes Old World Tradition on a refreshingly modern journey."
A Family Affair
In addition to Girasole's meticulous attention to culinary quality and detail, you feel warmth as soon as you step into the restaurant.  The décor welcomes you with warm golds, burnt orange, and yellows – and sunflower art adorn the walls, of course.  Indoor dining literally warms you with an old-world pizza oven where pies are seasoned and baked right in front of you. Outdoor dining, available year-round thanks to a protective covering, offers plenty of comfy seating with an al fresca flair.

But what really shines warmth on the Girasole restaurant is family.  At any given time, you will find up to 12 family members on site welcoming each guest and sharing their expertise in Italian cuisine.  Iovino explains how important the family touch means to him, "Girasole stands out because of our originality in our cuisine and because of our genuine, traditional family atmosphere and warm Italian hospitality. When you step in our restaurant, you become part of our family and the connection is palpable."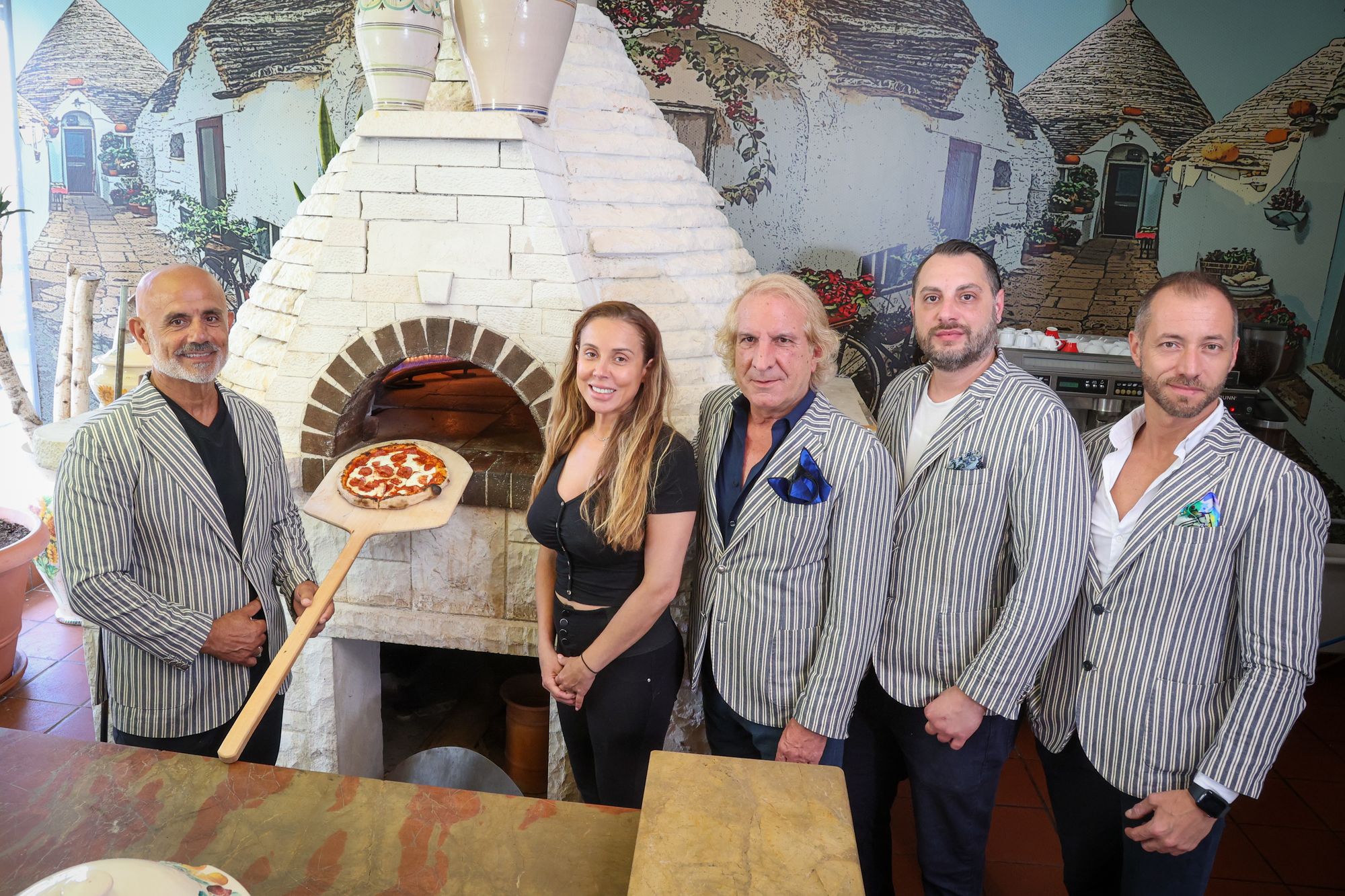 Homemade with Love
An easy way to serve pasta, would be to buy premade commercial products.  Easy yes, but not what you will get at Girasole.  Iovino insists on only homemade pasta – it is more flavorful, fresher, healthier, and better than premade pasta. He feels that his pasta dishes absorb the flavors of the sauce that give each meal a truly original and authentic Italian taste.

One of the most popular pasta dishes is the Spaghettini Niri – handmade black, thin spaghetti with jumbo lump crab meat, artichokes, and chardonnay.  Another pasta dish that represents Girasole's unique menu is the Casarecci – homemade twists of pasta tossed in a Tuscan kale pesto, mushrooms, and almonds – made fresh as you order.  If you are torn between pasta choices, Girasole offers Pasta Tasting of Three – an easily shareable option that allows you to sample several of Girasole's award-winning pastas.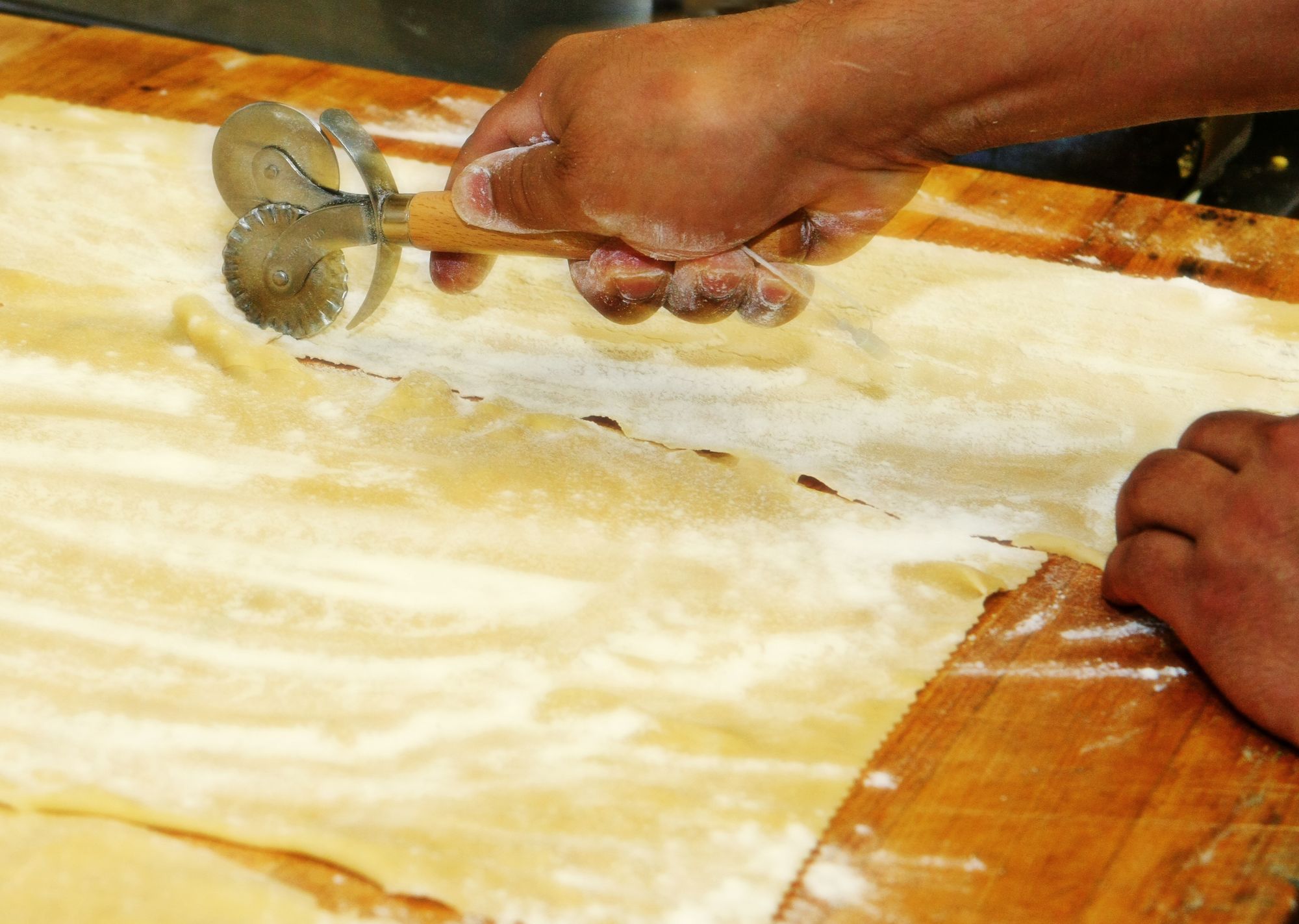 Menu Highlights
What does Iovino consider a perfect meal at Girasole? For a full experience, he recommends an appetizer, pasta intermezzo, entrée, and dessert. For example, start your meal with the signature Melanzane e Zucchine – a baked eggplant, zucchini Parmesan. As an intermezzo – sample one of the homemade pasta dishes such as the Orechiette – sautéed broccoli rabe and hot Italian sausage over a bed of homemade ear-shaped pasta. For the entrée, Iovino suggests a Girasole favorite – a whole and salted Branzino filleted table-side. For dessert, a delicious Crocantino – chilled zabaione custard, caramelized almonds, and dark chocolate chips.

In addition to Girasole's impressive menu options, Iovino also offers individual gourmet pizzas baked to perfection in an artisanal stone-built oven.  Select from a dozen of pizza options ranging from the creamy Burrata – mozzarella Pugliese and cherry tomatoes with a balsamic reduction or the Fra Diavolo – tomatoes, long hots, and parmesan.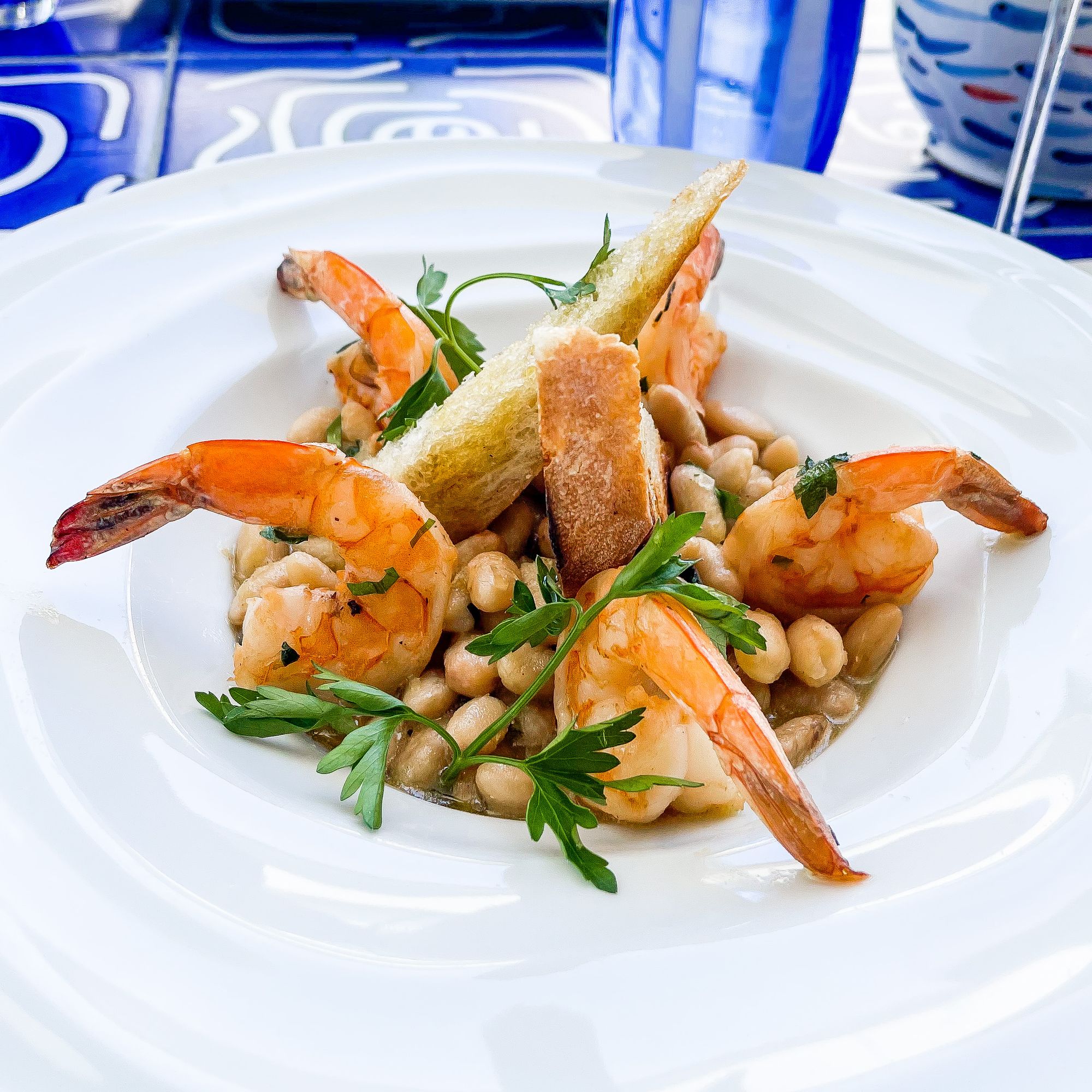 Longtime fan, Sherrie Kendall, considers Girasole her "go to restaurant."  From appetizer to entrée and then some, Kendall has nothing but praises for one of her favorite Atlantic City restaurants, "Not only was the service friendly and attentive without being intrusive, but the meal was superb - oh so relaxing innovative cocktails, thin crusted pizza - light and delicious.  We shared a fresh salad and a whole Bronzino - moist and to die for."
Keep in mind, at Girasole all food is cooked to order from scratch (not pre-made/re-heated).  So regardless of your menu selection, sit back and savor a cocktail or glass of wine as you await your specially prepared meal. Iovino and his family want you to enjoy the quality of the food and the love they put into each dish. They want every guest to experience Girasole - Extraordinary. Italian. Taste.
Buon appetito!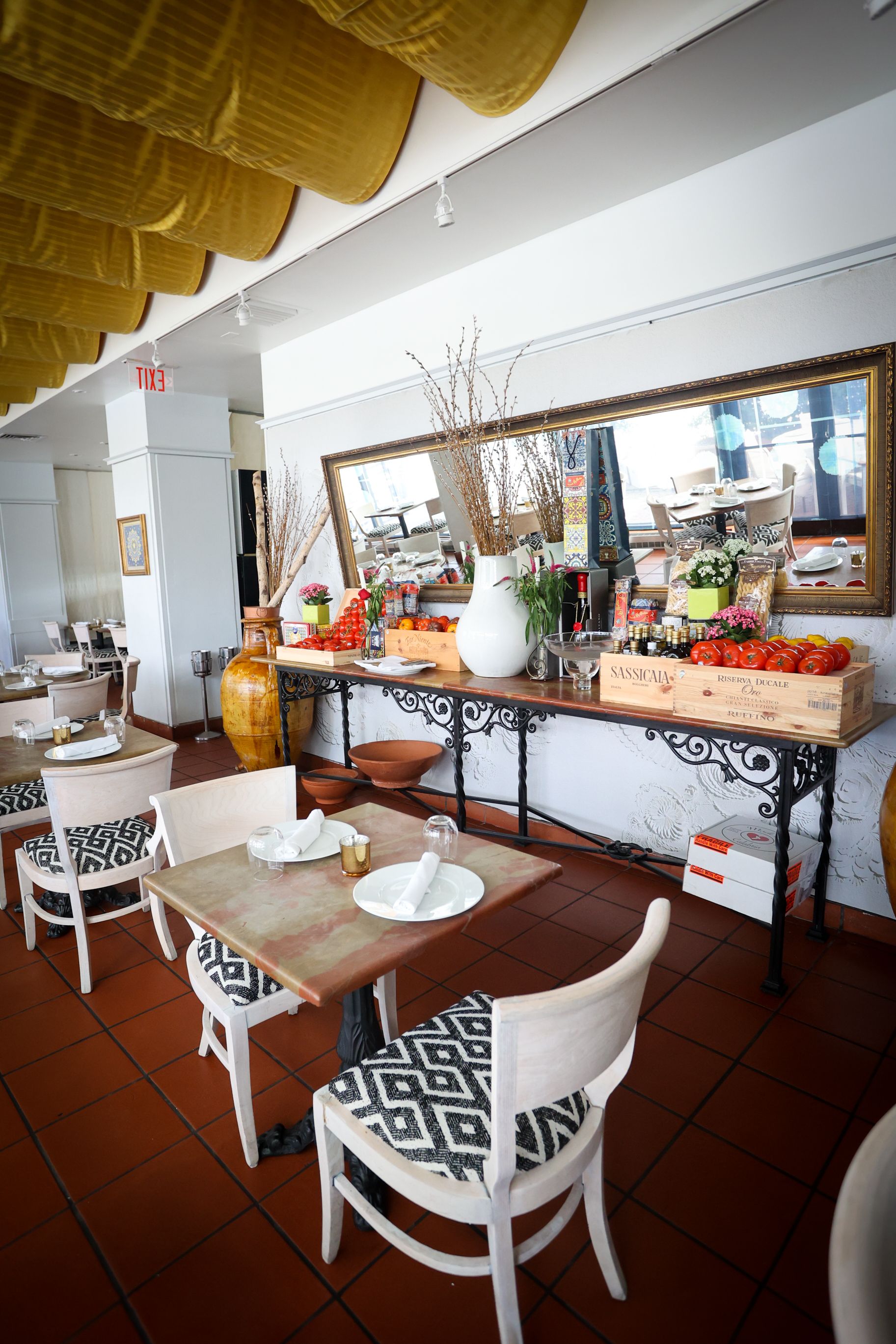 ---
For more information about Girasole visit their website here: https://mygirasole.com
To make reservations on Open Table: https://www.opentable.com/r/girasole-ristorante-atlantic-city-4?ref=1068
Comments