Skiing – pointing long, narrow slivers of fiberglass attached to your boots down a snowy hill, and allowing gravity to do its thing. That swooshing feeling can be daunting if you're a beginner, or exhilarating if you're a seasoned skier. However, pointing those skis down an Alp is an entirely different experience - for everyone. The scenery is nothing less than breathtaking. Afterall, you are skiing in the highest and most extensive mountain range in Europe, with peaks easily reaching up 14,000 feet into the clouds.
Where majestic and jagged mountains rule, ski resorts are plentiful. For example, in Austria, the SkiWelt Wider Kaiser alone touts 90 lifts and more than 160 miles of interconnected trails. Compare that to 19 lifts and 95 miles available in Breckenridge, Colorado. From Switzerland to Italy, skiing possibilities are plentiful, gorgeous, and heart-stopping. So grab your goggles, helmet, and ski gear – we are going downhill, off piste (backcountry), and into the powdered heavens called the Alps.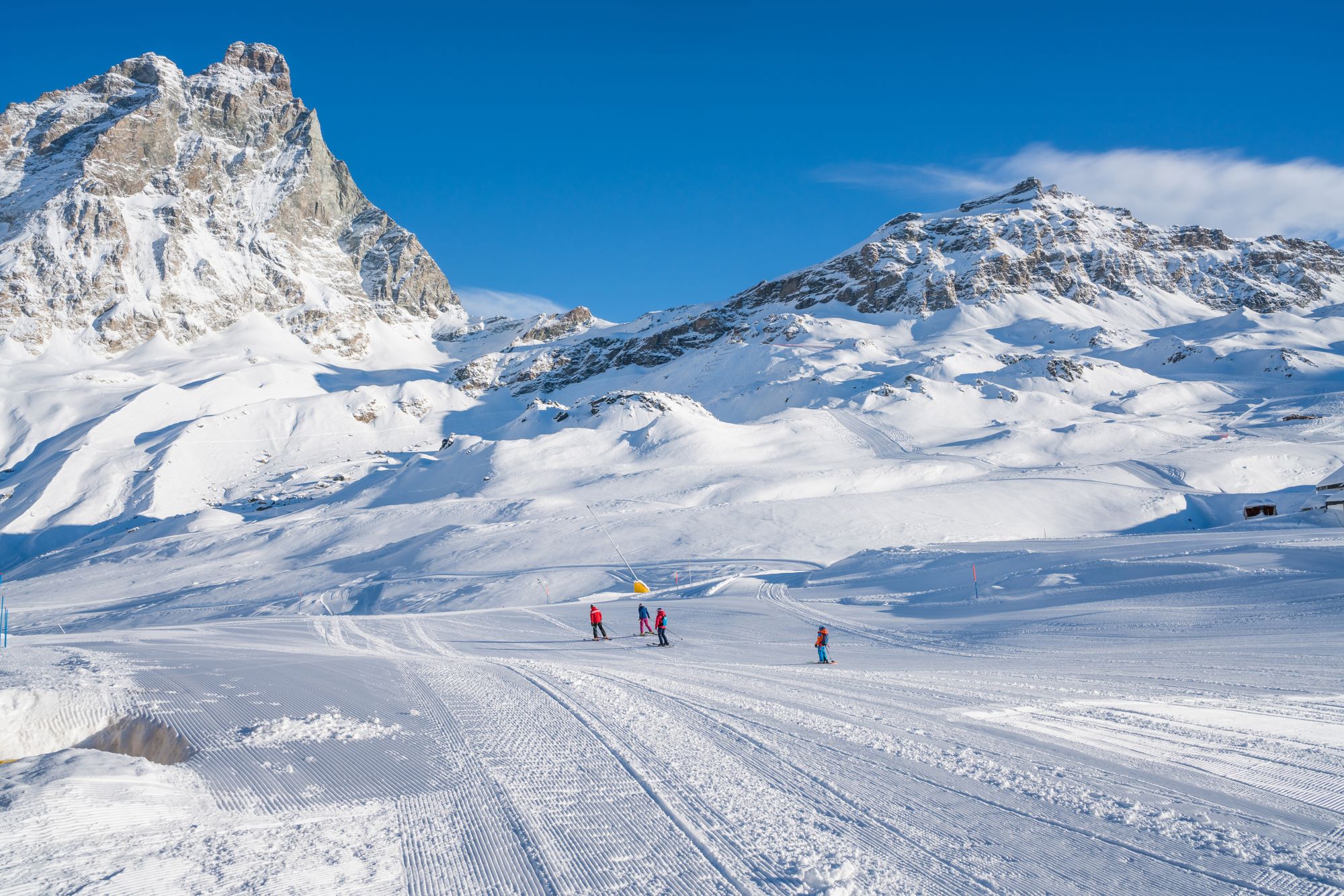 Beginners Options
Almost every ski area offers beginners slopes. However, a bunny hill in North America, especially on the East Coast, is an ant hill compared to the Alps. That being said, a novice may want to take a first run in Gstaad, Switzerland. The resort offers a myriad of trails, for skiers and snowboarders alike, on "gentle" slopes.
In addition to trail options, families with children can partake in the professional ski schools offered at Gstaad including children/beginners ski lifts and conveyor belts. Even if you fancy yourself a "good" skier, it certainly cannot hurt to test the waters (actually the snow) on a kinder and gentler hill like the ones found in Gstaad.
If you have had enough of skiing for the day, be sure to explore the town. With typical European alpine flavor, there are plenty of shopping possibilities ranging from Prada to Hermes, as well as cutesy specialty shops. Once you have your fill of après skiing shopping, grab a hot chocolate or a more potent toddy, and people watch from one of the cozy street cafés.
Middle of the Road – Actually the Trail
Many ski experts consider the Kitzbühel ski resort, located in Austria's Tyrol region, one of the best ski resorts for intermediate skiers in the Alps. Located only an hour away by train from Salzburg, the Austrian resort has multiple blue runs that offer plenty of groomed and gently angled runs.
Although they may be gentle(r) slopes, skiing the Alps teaches you very quickly that runs are much longer than in the United States. For example, the 52-mile SkiWelt run allows you to never take the same trail or ski lift twice. Once you purchase your lift ticket, you have access to 74 miles of intermediate trails – long trails, so don't even think about getting bored!
If you work up an appetite skiing and snowboarding, the mountain is speckled with chalet eateries and restaurants. Take off your skis and rest those legs while ordering Austrian favorites like wiener schnitzel and spaetzle. At night, the town of Kitzbühel is a photo-op of a stereotypical Austrian village – pastel-colored buildings and cozy warm dining and drinking establishments.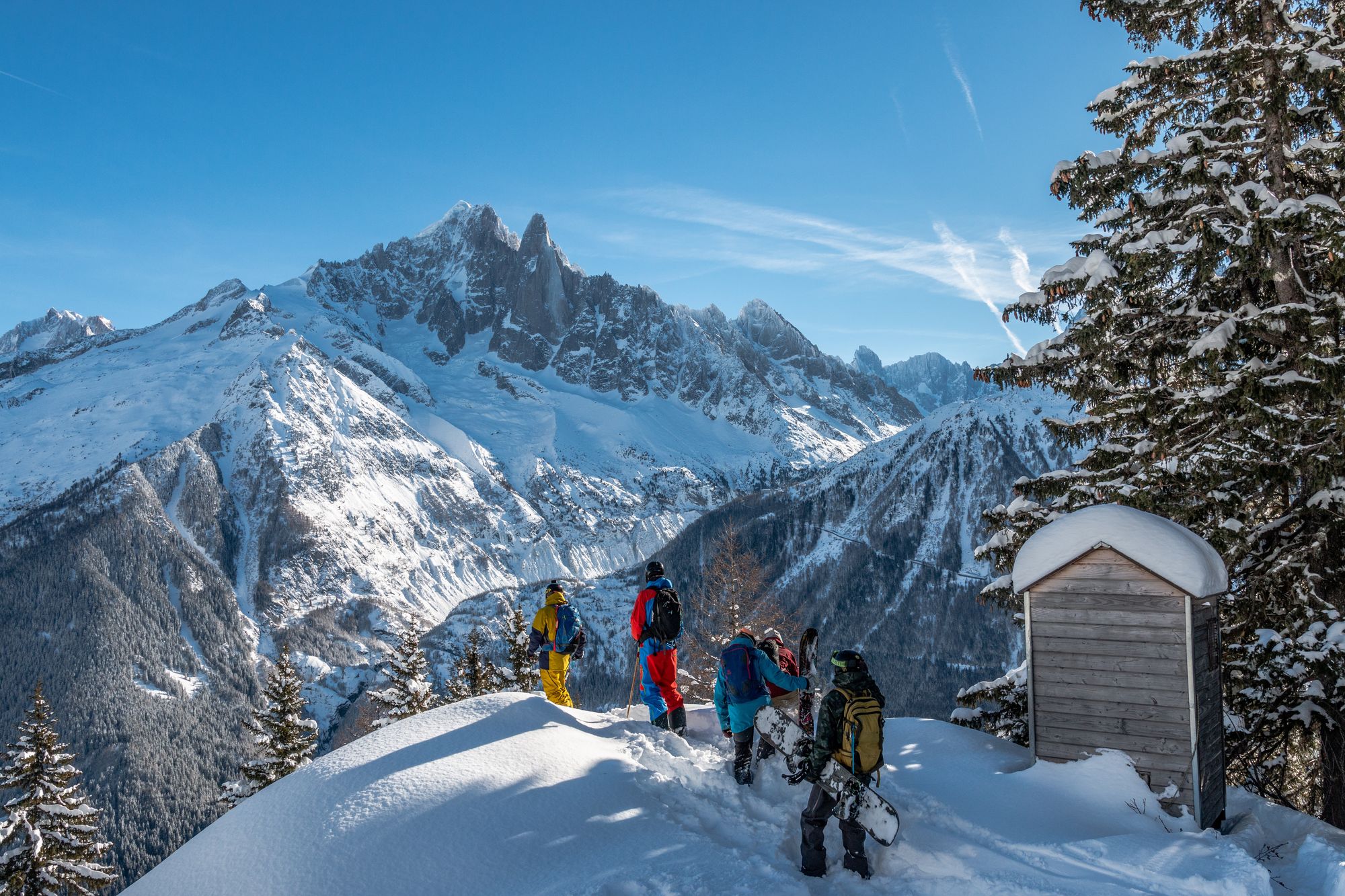 Black Diamond and Then Some
OK, hot shot. You think you are ready for the Alps, Black Diamond style? Well, Verbier, Switzerland and Chamonix, France are for you. The resort of Verbier 4 Vallées is known as the largest ski area in Switzerland. As the name suggests, you have four challenging valleys with plenty of steep (up to 77-percent grade), groomed trails to satisfy your inner dare-devil lurking under that ski jacket! Once you get to the top, stop and take in the windy view of the Alps including the majestic Mont Blanc - 15,406 feet above the valley below.
Considered as the most difficult skiing in the Alps, the Chamonix Valley consists of five ski resorts including Grands Montets – the largest and most popular ski resort in the Chamonix Valley including skiing over the Argentière glacier. Depending on proficiency, some people hire a guide to help them navigate across the Vallée Blanche, one of Chamonix's most well-known ski routes - 20km of glaciers, crevasses, and the most breathtaking views of the Alps.
A Must See/A Must Ski
Straddling the border between Zermatt, Switzerland and Cervinio, Italy, a large, near-perfect pyramid of a peak towers over the mountains. The iconic Matterhorn stands as one of the highest summits in the Alps - 14,692 feet high. Whether you begin the journey in Zermatt or Cervinio, study the trail options and maps to make sure you are comfortable since most trails are for intermediate and advanced skiers. If you are up for the challenge, consider skiing from one side of the mountain to the other via the Saint-Théodule pass. At 3,883 meters, the glaciered slopes offer a stunning panorama of the Matterhorn and surrounding peaks. Plus, being able to ski from Switzerland to Italy (or vice versa) gives you a James Bond kind of international flair.
Comments