I Get by With a Little Help from My Travel Friends
Whether you plan to visit Paris, Beijing, or Miami Beach, you need to make travel plans – planes, trains, and automobiles. B&B or a 5-Star hotel? Cruise or land trip? Book a tour in advance to visit the ruins of Pompeii? How do I find a walking tour of old London? What's the best way to see Denali in Alaska? So many details to cover before and during your trip.
Rather than Google your fingers off trying to cover every angle of planning a trip on your own, let experienced travel companies guide you. From booking your flight to organizing the perfect itinerary, experts in the travel industry can take care of details that will no doubt make your vacation memorable and hassle-free. So, let's visit, pun intended, a few tour companies that have the experience and the know-how to make your next travel adventure a carefree one.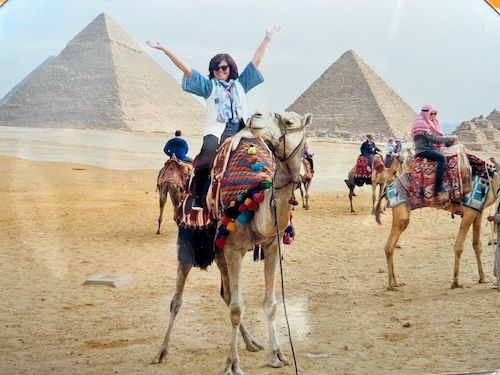 Gate 1 Travel
In 1981, Gate1 Travel started with three employees based in suburban Philadelphia. Today the travel experts employ over 200 people around the world from Cambodia to Argentina to Israel. Over the years, Gate 1 established a reputation for offering a wide selection of attractively priced escorted tours, independent vacations, and river cruises to destinations worldwide.
If you prefer an independent travel agenda, Gate 1 has you covered. For example, explore on your own the 9-Day Venice, Florence, & Rome by Rail package. Gate 1 does all the planning and booking - getting you their special rates. Once you arrive in Italy, your train and hotel itinerary are all set. However, you can decide what you want to visit and when independently.
If you prefer an escorted tour, Gate 1 features modern motor coaches and wide-ranging itineraries. They pride themselves on offering customers "one upfront price" that covers accommodations, transportation, most meals, and guided sightseeing. All you need to do is pack your bags! The rest of the planning will be taken care of by guides who escort you from the minute you arrive at your destination until they take you back to the airport to head home.
Avid traveler, Jan Creighton, vouches for Gate 1 and its customer service. Creighton explains a recent travel glitch that Gate1 helped her navigate, "I had a trip to Egypt recently and my flight was canceled, the airlines rebooked me for the next day! When I called the emergency line at Gate 1, the agent said, 'No way, you can't miss the first day - you'll miss The Great Pyramid' and rebooked me herself… I so appreciated their dedication to helping travelers."
Tauck Tours
Since Arthur Tauck Sr. took his first six paying passengers on a 1,000-mile, six-night all-inclusive road trip through New England in 1925, Tauck Tours has become a premier travel broker. By land or sea, Tauck offers a variety of trips, domestic and international, from Antarctica to Asia.
Tauck vacations are highly inclusive. Almost all travel expenses are covered in one, upfront price including airport transfers, hotel and ship accommodations, entertainment, meals, and guided sightseeing. For almost 100 years, the company has prided itself on providing "top-notch service and expertly crafted vacations." Some Tauck tours offer exclusive content through partnerships with BBC Earth and filmmaker Ken Burns.
Travel enthusiast Judy Zon has nothing but high praise for Tauck. She has traveled with them to Hawaii, Cuba, and more destinations. Zon sums up why Tauck works for her, "Everything is first class - the hotels, fabulous dining. And, they really took very good care of not missing any details."
In addition, each trip is led by a knowledgeable and enthusiastic Tauck Director who oversees travel logistics while sharing interesting facts about the places you visit. Tauck also screens and selects "premium accommodations" in amazing locations. From landmark city hotels to off-the-beaten-path inns, Tauck ensures that each hotel provides an upscale ambiance and superb service. As for meals, Tauck handpicks "distinctive restaurants" that reflect the taste of each region visited.
Uncommon Journeys
As its name implies, Uncommon Journeys prides itself on offering "…some of the most distinctive, elegant, and stylish holidays in North America." The company originally started promoting exceptional travel by ocean liner and streamliner train including Cunard Line Limited and the Venice Simplon Orient Express. They also pride themselves on being the "anti-tour" from start to finish - no name tags or forced introductions, no one-night hotel stays, and no early breakfast or crack-of-dawn departures.
Uncommon Journeys, the only remaining provider of classic overnight vintage (1950s-1960s) streamliner trains, offers exceptional trips throughout the West including National Parks, Alaska, and the Canadian Rockies. Aboard the train, experience comfortable Pullman sleeping cars, fine dining (included in the fare along with wines and spirits), superb service, and elegant surroundings that you can view from vista domes.
Another area where Uncommon Journeys excels is ocean and cruise travel by partnering with exceptional companies like Cunard, Oceania Cruises, and Regent. Regardless of your budget, Uncommon Journeys helps you find the cruise that fits your needs - from an affordable inside room to a five-room suite aboard the Queen Mary 2. In addition, cruise staff members at Uncommon Journeys must cruise a ship multiple times before they can advise customers – guaranteeing that the information that they provide you is first-hand and accurate.
Comments