Leave it to a poet, Andrew Barger, to perfectly describe a city in short simple words: "Even the moon was embarrassed by the beauty of Barcelona." Hugged by 25 miles of spectacular Mediterranean coastline, Barcelona exudes beauty and warmth, literally and figuratively, to all who visit her. Nicknamed the "Paris of Spain," the city offers major cultural and historical sites as well as many of Antoni Gaudi's surreal architectural wonders. Like a table full of tasty tapas plates, Barcelona begs to be sampled. So, vamonos!
Not Your Typical Park Bench
One of the biggest tourist attractions in Barcelona (and mostly free) is the incredible Parc Güell. Designed and built by Gaudí in the early 1900s, it is almost mandatory to stroll through the 30 acre, multilevel, and definitely non-linear grounds designed in Gaudi's unique style. The park blends gardens with fantasy architecture using columns, terraced gardens, gingerbread-like houses, waves of mosaic walls, and even a dragon-shaped entrance.
The view of the city from the highest point in the park is stunning. The grounds also make for a perfect place to chill out with a book, enjoy local musicians, or watch giant bubble vendors create ethereal shapes that float throughout the park.
Another Gaudi highlight in Barcelona, Sagrada Familia Basilica, is a stunning piece of Modernism, and then some. Over 140 years ago, Gaudi envisioned a one-of-a-kind church from foundation to ornamentation. Today, the massive and non-traditionally designed church stands tall with not a single right angle and very few straight lines – and still awaits completion! Gaudi's vision for his God, who he considered his most patient client, includes seven chapels and 18 steeples – all elaborately detailed with Catholic symbolism presented in an almost sandcastle-like design. Suggestion: Book a 1.5-hour tour to skip the long lines at the entrance. Once you are inside the church, head to the top of one of the many towers to enjoy the views of the city.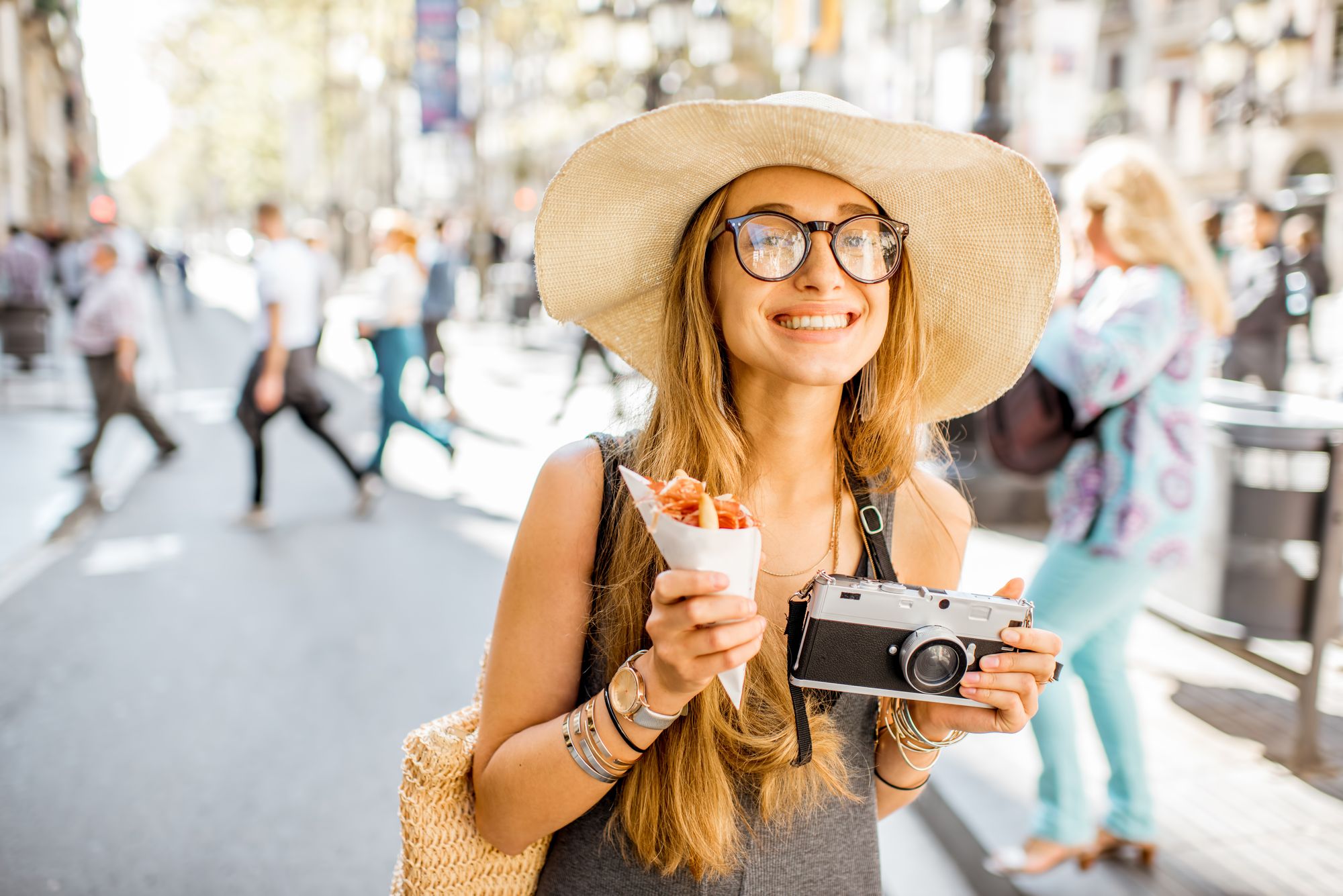 Small Bites – Barcelona Style
When in Barcelona, do like the Catalonians and enjoy tapas – a small appetizer or snack. The origin of tapas comes from the word in Spanish for cover or lid – tapa. Barkeepers back in the day would cover drinks with a small piece of bread or meat to keep away the flies – thus the idea of small bites gave way to a whole new internationally enjoyed cuisine.
Tapas are served day and night in bars and cafés throughout Barcelona – with different menus and prices depending on the establishment. Whether hot or cold, tapas are meant to be shareable. A typical tapas table may include a plate of mixed olives and cheese for a cold plate or Hot Chopitos – battered and fried baby squid. Another favorite, Patatas Bravas - small deep-fried potato cubes that you can dip in a garlicky aioli or a spicy tomato sauce. Think of it as the Spanish version of French fries.
To accompany your tapas, enjoy an ice-cold glass of Estrella Beer. Brewed in Catalan since 1876, the beer goes perfectly with your small bites. From quaint cafes to elegant dining, Estrella is found almost everywhere in Barcelona. If you are a beer aficionado, sign up for a tour of the historic Old Brewery and learn about Catalonian beer production – and tasting samples, of course.
Catalan Shopping
Barcelona is most definitely a walking kind of city. Casually stroll as you shop along Passeig de Gracia - the most expensive street in Barcelona. The wide street, tree-lined and elegant, offers many a designer brand and haute couture. In addition, if you have not had your fill of Gaudi's surreal architecture, look for several of his buildings on the street including Casa Milà (AKA La Pedrera or "The stone quarry").
If you are into Catalan crafts like pottery, leather goods, designer jewelry, and oils and vinegars, check out the little shops in the quaint Ciutat Vella and Gràcia neighborhoods. For a fun excursion, try your hand at an Espadrille Making class. The artisans in the workshop not only help you create your own espadrilles, but you will also learn how to lace up your roped-soled shoes in several traditional ways.
If you are looking for less high-end shopping and more for souvenirs, Las Ramblas offers many options. The well-known pedestrian street is fully lined with outdoor markets, shops, and cafes. In addition, La Ramblas draws acres of tourists to enjoy elaborately painted human statue performers and musicians. If you are on Las Ramblas, step into the Boqueria Market – worth a visit with its colorful and tasty array of local produce, specialty meats, and other treats.
Comments