For the last few years, millions of viewers have been obsessed with the "Yellowstone" TV series. The story centers around the Dutton family ranch in Wyoming with Kevin Costner playing the cowboy-handsome patriarch of the clan. The stories provide plenty of intrigue, romance, and beautiful scenes of the untamed West. The series is a huge hit, but Yellowstone National Park itself must get the starring role – hands down.
Located mostly in Wyoming and reaching into Montana and Idaho, the park offers well over 3,000 square miles of stunning natural beauty including lakes, canyons, and geysers. Whether you are an enthusiast of fishing, hiking, animal watching, or photography, Yellowstone ranks as one of the most popular attractions in America.
Let's take a tour and highlight 7 must-do options when visiting Yellowstone National Park.
Animal Watching

You will not see lions and tigers, but definitely lots of bears - grizzlies to be exact! In addition, Yellowstone is home to the largest population of wild bison in the world.  Although you may spot animals anywhere in the park, less traveled Lamar Valley offers pull-offs where you can get out of the car for photo ops of wolves, elk, and bears.
Take a short drive east towards Lovell, Wyoming, to find wild horses - the Pryor Mountain herd of mustangs. Make sure you get your cameras ready to photograph these beautiful animals roaming wild.
2. Hiking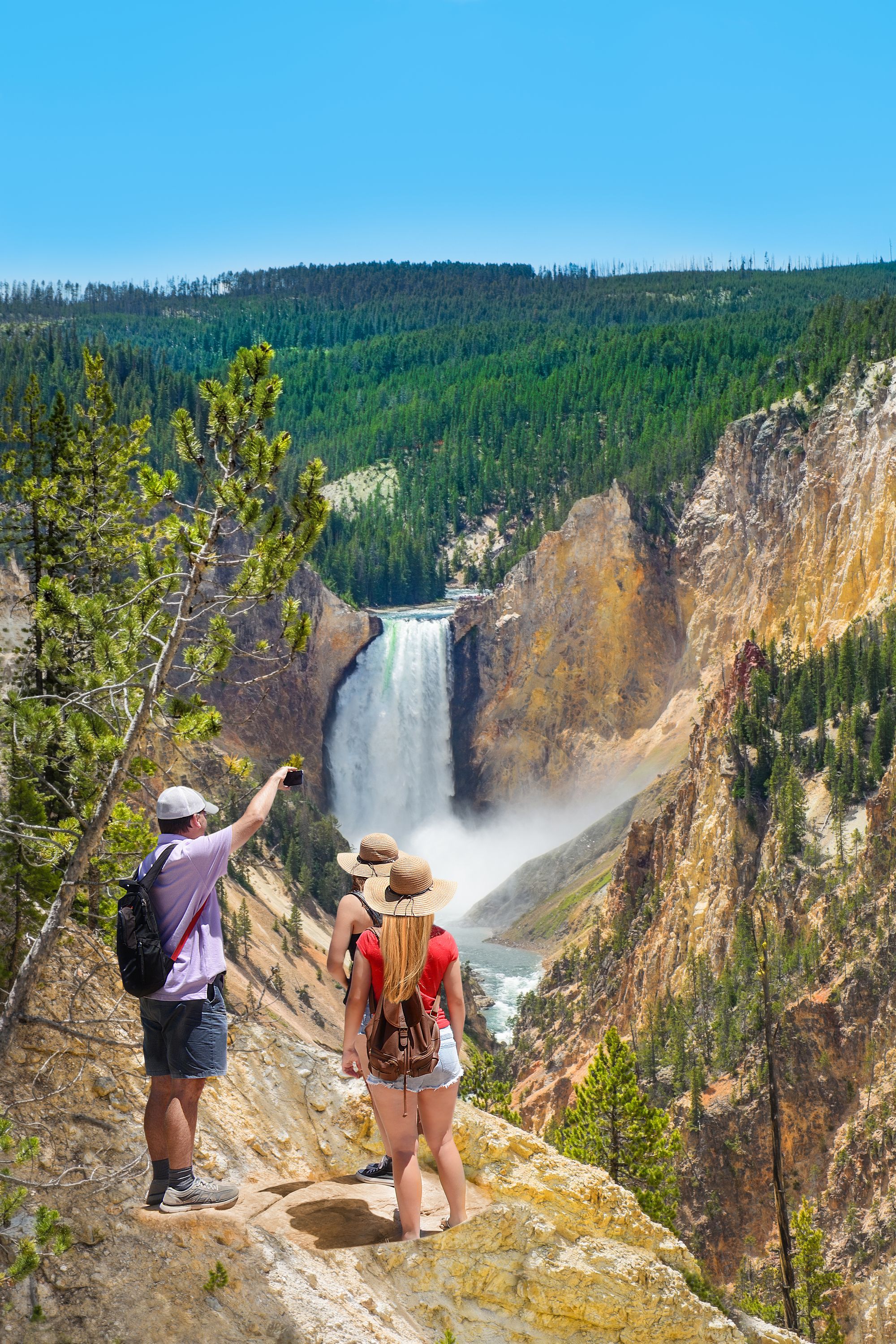 With over 1,300 miles of trails, hikers enjoy the many varieties of flora and fauna that can be seen on any given day. Some of the most popular trail options include Fairy Falls – walk by a waterfall and two geysers or Avalanche Peak – a 4.7-mile hike offering breathtaking views.
You can hike on your own or sign up with a tour guide company. In any case, remember you are still in the wild.  Make sure you bring water bottles, a compass, and bear spray, just to be safe.
3. Old Faithful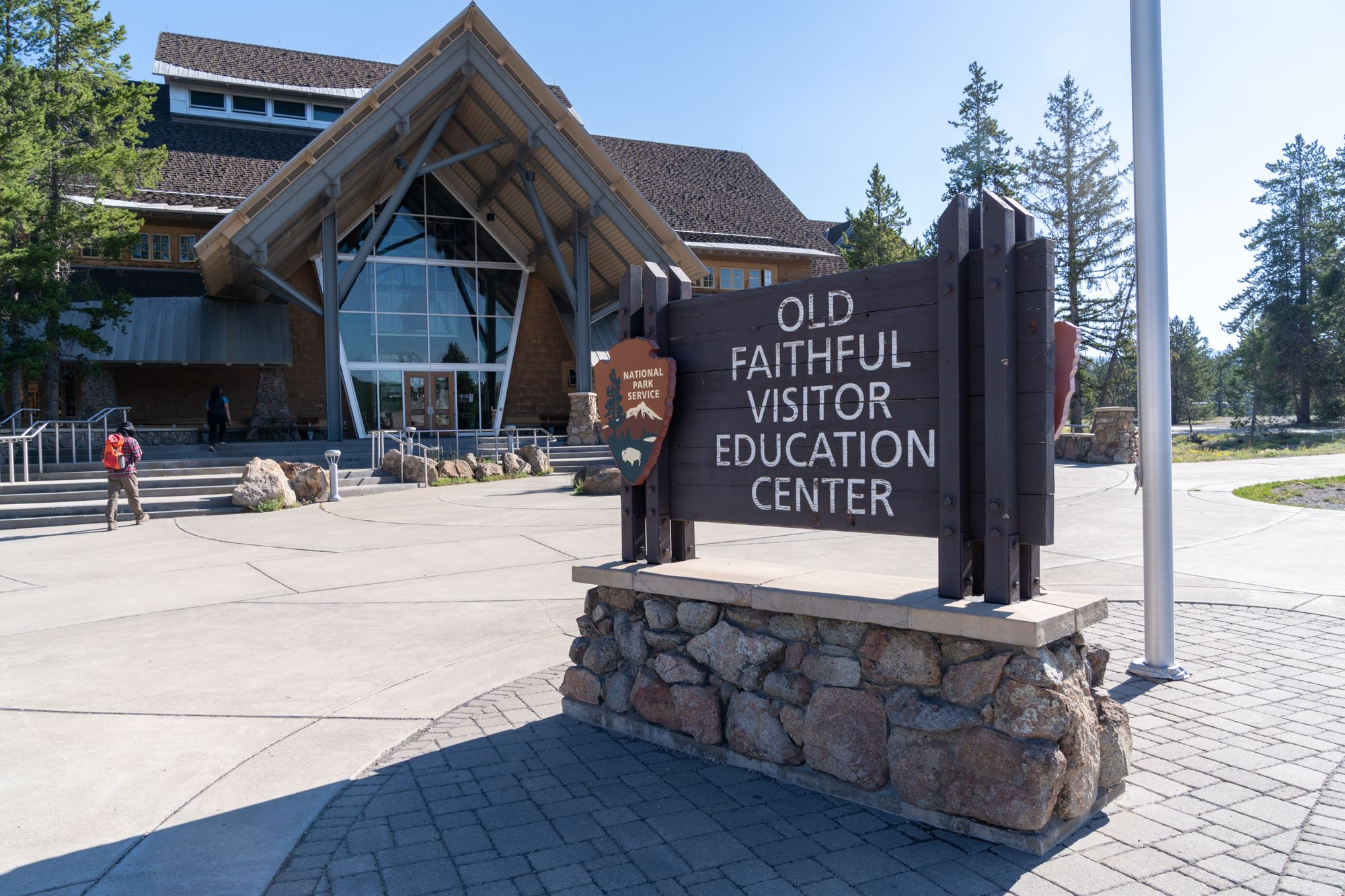 If a spray of steam can be famous, Old Faithful is the most noteworthy. This precise as clockwork geothermal eruption draws quite a crowd up close and personal - millions of visitors each year. Since 2020, Old Faithful has continuously erupted within a two-hour time frame - day and night. The appropriately named geyser is a sight to see as it spouts up steam 185 feet into the air for up to five minutes straight.
Want to enjoy a drink as the geyser blows?
Nearby the Old Faithful Inn, the largest log hotel in the world, offers great views with a rustic and very Western decor.
4. Fine Dining
If you do not associate fine dining with a national park, Yellowstone will change your mind.  In addition to the Old Faithful Inn, another historic hotel inside Yellowstone is the Mammoth Hot Springs Hotel. Located at the north entrance to the park, the hotel and neighboring cabins provide views of grazing elk and the fascinating limestone travertine terraces at the Mammoth Hot Springs.
Most of the hotels and restaurants in and around the park offer typical western menus – like local elk and bison meat. However, you can also find international cuisine to please any palette from carnivore to vegetarian prepared by prominent chefs.
5. City Slickers
Willy Nelson may have warned mothers not to let their babies grow up to be cowboys, but the call of the wild west remains strong. What better way to explore Yellowstone than on horseback riding into the sunset like in a John Wayne movie. Book a day tour with a local company or stay on a guest/dude ranch for the full experience of "living" like a cowboy.
Saddle sores? No worries. Most dude ranches provide guided van tours of Yellowstone with options for white water rafting, fishing, and even a trip to the famous Cody Rodeo in Wyoming.
6. Thermal Pool Dipping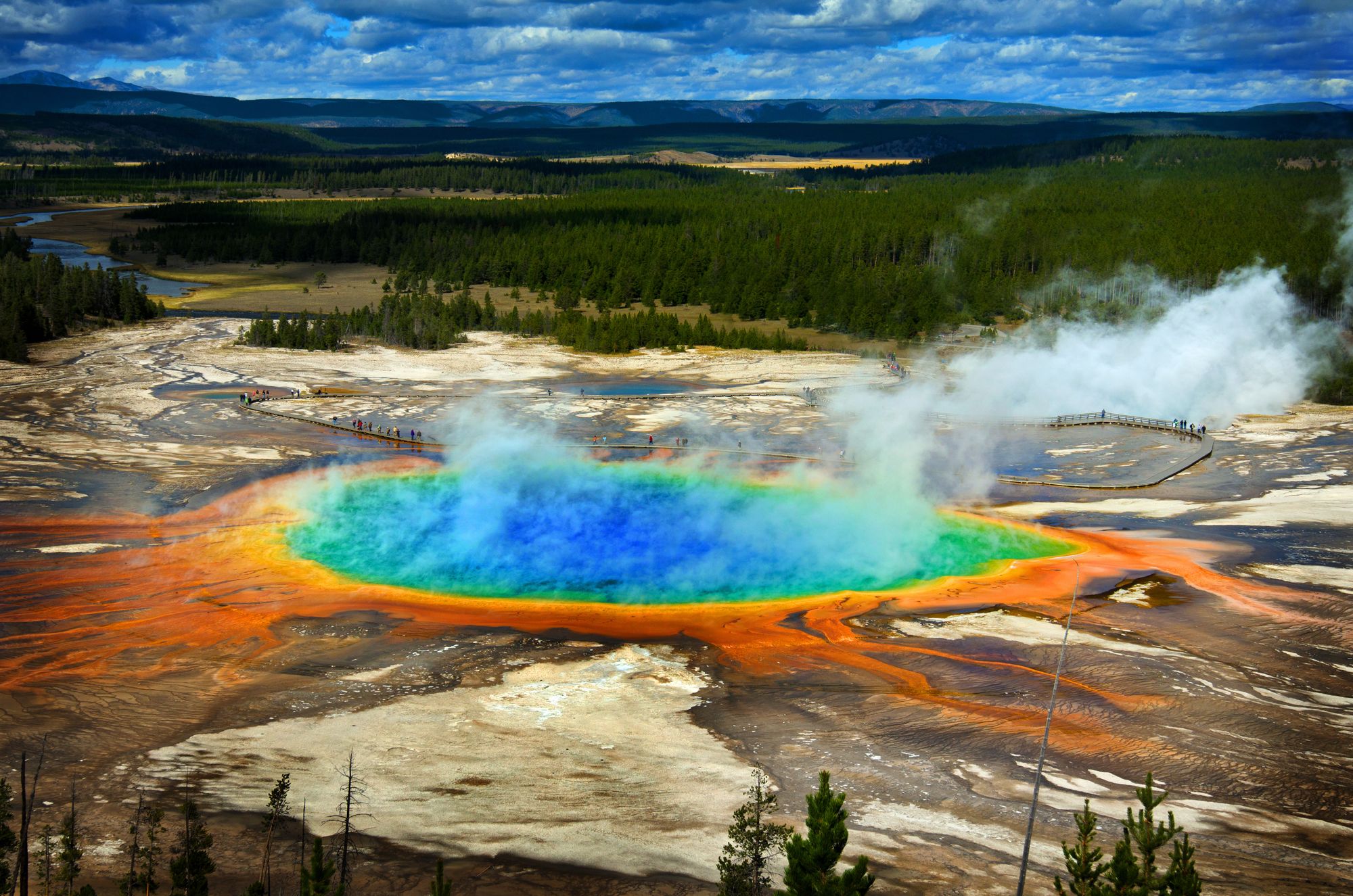 When packing for your trip to Yellowstone, don't forget a bathing suit.  Although swimming in the park's many thermal pools is prohibited, you can still experience the healing and soothing waters nearby. For example, the Yellow Stone Hot Springs resort offers mineral-rich waters with views of majestic mountains as your backdrop.
Some of the benefits of soaking in the natural waters include increased circulation, stress relief, and skin soothing. Whether you prefer soaking in the 104ºF pool or taking an invigorating dip in the cold plunge at 65ºF, fresh and highly contained mineral water constantly flows in from the earth to the pools.
7. Grand Prismatic Spring
Located in the Midway Geyser Basin, Grand Prismatic Spring is the largest hot spring in America. In addition to its size, what makes this hot spring so unusual is the kaleidoscope of colors that encircle the crater.
Because of the different types of microorganisms flourishing in the hot springs, Grand Prismatic Spring looks almost neon-like with layers of red, orange, yellow, green, and blues. To get an overhead view of the colorful hot spring, go up the Grand Prismatic Overlook Trail to look down from the platform.
Comments