South Jersey resident Toby had been struggling to take care of her 89-year-old husband, who was suffering from a chronic illness. When it all became too much for her, one of her daughters suggested trying Comfort Keepers.
They met with her and her husband and developed a care plan that helped her with meal preparation, housekeeping and assisted her husband with everyday tasks such as bathing and dressing. It helped to ease the burden and stress Toby was feeling. She says, "They are like family, such devoted and dedicated people. They care so much about my husband and even care for me too. They have been a Godsend, helping us in ways we never could have imagined. I don't know where we would be without them."
Toby's story is just one of the hundreds of clients that Comfort Keepers takes care of in our community. An 86-year-old widow who wants to remain independent in her own home. A daughter who wants some extra care for her parents. A man recovering from knee surgery. These are real-life situations, and when people need help, they want to count on someone who cares. Comfort Keepers strives to improve quality of life by focusing on the core activities that increase engagement, improve physical and mental wellness, and bring happiness, purpose, and hope. Their services focus not only on physical needs but on the total well-being of their clients and their families.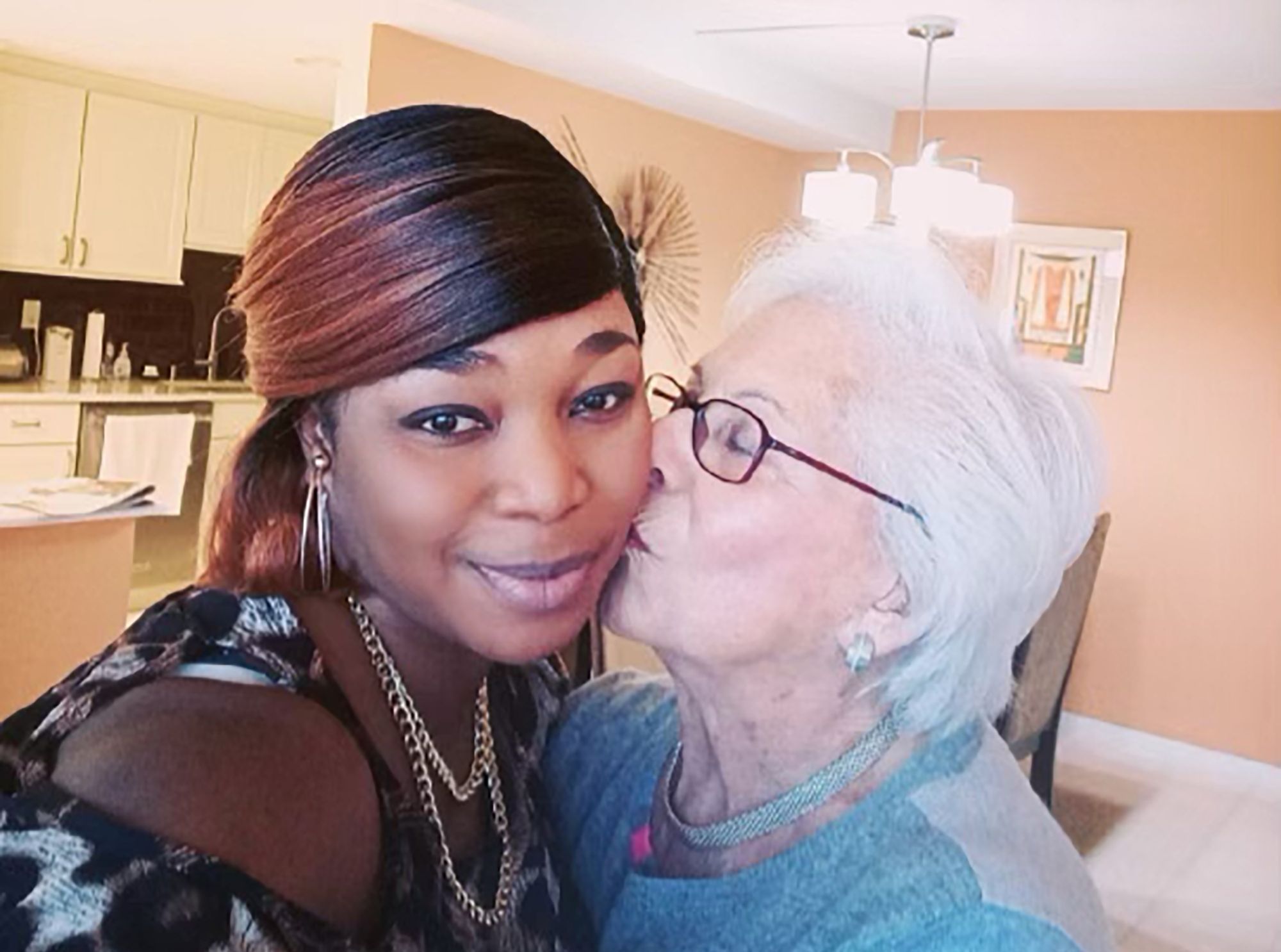 As the world's largest in-home senior services' company, Comfort Keepers offers a wide array of services such as light housekeeping, meal preparations, prescriptions and medication reminders, transportation, and more. Also, their Certified Home Health Aides can provide personal care such as bathing, toileting, dressing, post-hospital care, as well as dementia and Alzheimer care.
I had a chance to learn more about these important services from Kelly Marerro, President of Comfort Keepers in Atlantic county, Cape May county, and Southern Ocean county.
R: Why did you decide to get involved with Comfort Keepers?
K: My grandmother was suffering from TIAs (mini-strokes) for over a year. The family decided to move my nana into an assisted living. On the third day of her stay, she had a massive stroke. No facility member checked on her when she missed breakfast and lunch. By the shift change at 3 pm, a nurse came into her room and found her lying on the floor. As it was too long a period for intervention, she went on hospice care and passed seven days later. No one should ever be in this terrible situation. Many nursing homes are grossly understaffed. Perhaps if she had a Comfort Keeper, she could have been treated at the onset. It was a turning point for me and shortly thereafter I decided to own my own company. Hence, the goal to keep people safe and in their own homes with dignity and respect.
R: What is the goal and mission of Comfort Keepers?
K: Our goal is to keep seniors safe at home with dignity and respect avoiding institutional living. All of our Certified Home Health Aides are licensed, bonded and insured and background checked. They work under the direction of a Registered Nurse with a Bachelor of Science in Nursing (BSN). After her initial assessment, our BSN writes the plan of care for the client. Each day she reviews the caregiver's progress notes and follows the client from start to finish. We are available 24/7 to keep our clients safe and happy at home!
R: How long have you been the owner and president of our local Comfort Keepers?
K: We are going on ten years. We started with zero clients and through word of mouth and our hands-on 24/7 approach to caregiving, we have been growing steadily. We are a family-run business and bring on each client with the premise that they are our own. We would not send in a caregiver to your house if we would not use them for our own family. It is a perilous time with COVID, but even before that, we had always strived to give the entire family peace of mind. They need to know we are their extended family caring for their loved ones.
R: What type of training do your caregivers receive?
K: They receive training from a board accredited school. Once successfully completed coursework, they take a written and practical test to receive their license. After that Comfort Keepers can hire them. We provide online and in-class training on Interactive Caregiving. These classes are taught by our Director of Nursing. They must pass a written and practical test. This is an ongoing certification with a mandatory 40 hours of continual training each year. Also, the Director of Nursing visits each caregiver and client in the field every 60 days to assess.
R: How many caregivers do you have?
K: We have more than 300 certified home health aides in staff, and we are continually growing and training caregivers to meet our high standard of interactive caregiving.
R: What is the first step for someone who is considering your services?
K: Our in-home care services begin with an in-home visit. I personally go to each home and meet each client. We do complete a comprehensive assessment and develop a customized care plan. Some people only need help with household chores now and then. Others might need 24/7 live-in care. We get to know our clients and connect them with the caregiver and plan that best fits their needs.
R: How has COVID affected your business?
K: We have decided to not take any clients who are actively infected with COVID-19. While we have educated our caregivers and have the highest degree of PPE products, we decided it is not worth the risk of infecting caregivers and their families. We have yet to take a COVID client. This means none of our caregivers are exposed, and they can come to our client's COVID -free. This is of utmost importance to our clients.
R: What changes have you made since COVID started?
K: We have had training in infectious disease control and actively screen and monitor each caregiver daily for fever and symptoms. If a caregiver has as much as the sniffles, they are quarantined and tested. We follow all CDC guidelines. We likewise continually monitor our clients their social distancing to protect our caregivers as well.
R: How big is Comfort Keepers?
K: Comfort Keepers brand is owned by Sodexo. We are global with a combination of privately owned and company-owned offices worldwide.
R: What are the benefits of having a large company behind you?
K: We have a professional and practical team of doctors and nurses at our disposal. We have a branded interactive caregiving training as our staff works one on one with our clients.
R: How are you different from other home care companies?
We offer 24/7 live nursing assistance. We are family-owned and operated, and we have skin in the game. Our name is our reputation, and we treat you as if you are a part of our family. Many of our clients stay with us for years at a time. Our staff is the best in the business and our caregivers are highly paid and trained. We have never had a salesperson. We wrap our clients in our arms and service each and every need they have. Our Director of Nursing is their single point of contact.
R: Do you have a story about any of your clients that you could share?
Grace was a 99-year-old Galloway resident who fell and broke her hip. She had no living relatives, and a neighbor took over as her power of attorney. After her hospital stay, she was moved to a local rehab/nursing home. The neighbor wanted to make sure Grace had on-on-one care in the facility, so she hired Comfort Keepers to act as her caregiver within the facility 8 hours a day. A real spitfire, Grace was a sharp, lovely woman who was adopted by all of us. We even arranged a party for her 100th birthday. Unfortunately, Grace outlived her funds. We decided to still care for her pro bono and did so until she passed several months later.
R: How does it personally feel to be making a difference in people's lives through your company?
K: It means everything to me. We are truly making a difference in people's lives. I always keep my grandmother's memory with me, and it motivates me to make sure that our clients are treated with respect and dignity.
__________________________________________________________
Comfort Keepers provides senior care services with the goal to keep seniors independent in their own homes. Comfort Keepers brings peace of mind to families and helps seniors to maintain the lifestyle and independence they deserve. They utilize technology to help families stay connected and updated on the health and wellbeing of their loved one. If you are interested in learning more or would like a complimentary in-home visit, call 609-277-7855 or visit comfortkeepers.com
Comfort Keepers accepts long-term care insurance and VeteranComfort Care's In-Home Services Include:
Companion Care to preserve mental health and social wellbeing
Personal Care to maintain activities of daily living, such as dressing and grooming
Safety Care, including personal emergency response systems and medication safety
Senior Transportation to safely provide rides for seniors to and from appointments or activities
Technology support to help keep seniors in touch with family and friends
Respite care to provide temporary relief for family and other primary caregivers
Private duty nursing with Registered Nurses (RNs) or Licensed Practical Nurses (LPNs) to offer advanced care
Specialized care services, including Alzheimer's and dementia care, 24-hour care, and post-hospital care
Comments