We can't sugarcoat it – saying goodbye to summer is tough. On top of letting go of our beach days and breezy bayside nights, we have to endure new back-to-school schedules and traffic patterns (no one wants to get stuck behind a school bus). Come November, we're even tasked with handling Daylight Savings Time. The end of summer can be a struggle.
Fortunately, there's a bright side — the fall wardrobe. As hard as it may be to let go of our strappy espadrilles, sundresses, and beach bags, it's made better knowing that a whole new season of fashion — think layers of thin and chunky sweaters, luscious leather boots and new denim trends — is upon us.
New Jersey Lifestyle Magazine spoke with two of the area's most popular boutiques—Talk of the Walk in Stone Harbor and Atlantic City, which hosted a fashion show we were lucky enough to attend, and Briana Central Square in Linwood—about trends and staples you'll want for a fashionable fall. Here, we've got the scoop.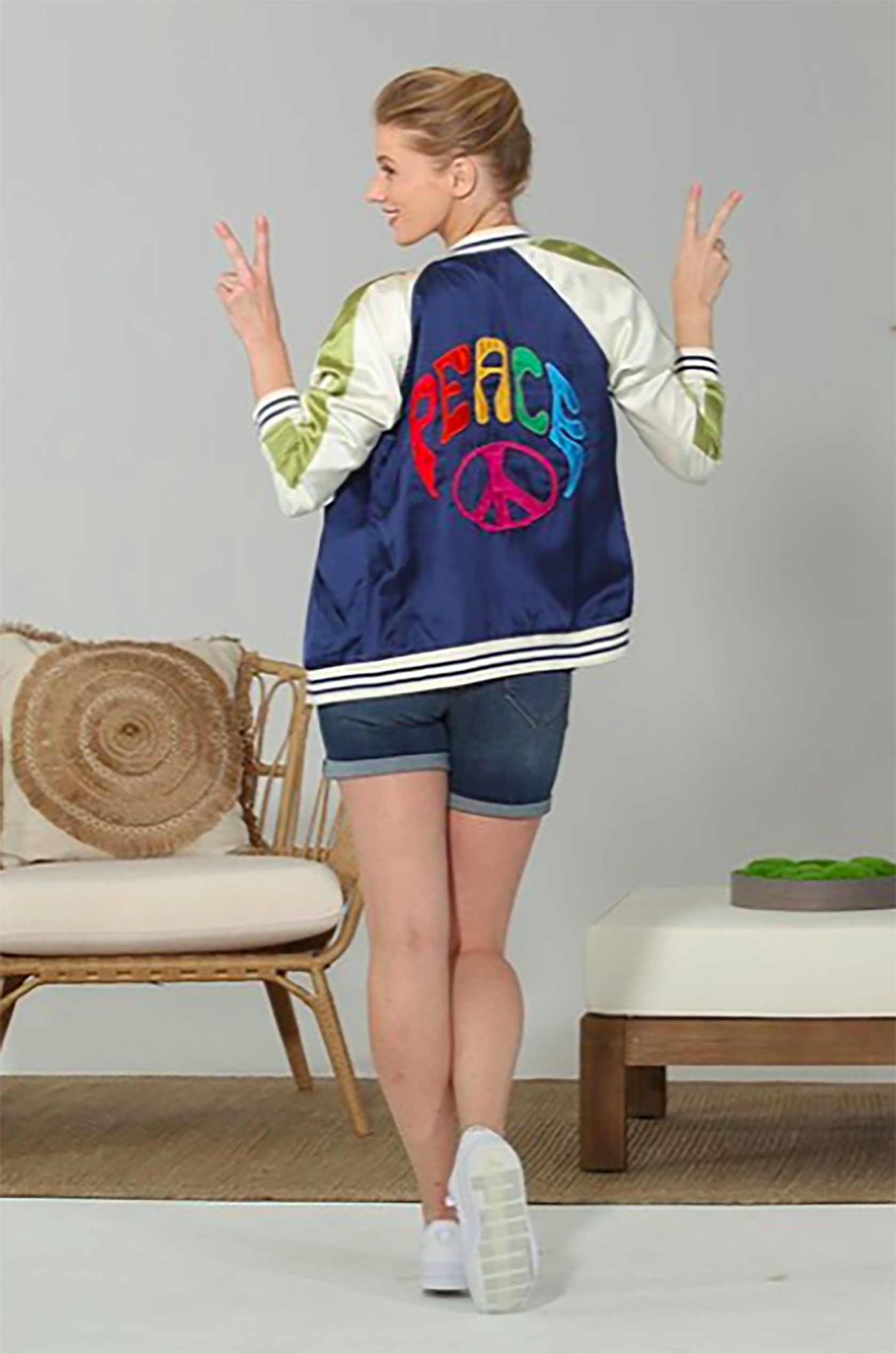 Fall, Fun & Football
The casual and cozy fall look is iconic, and with good reason — there's nothing better than warming up with a new sweater during that first chill of the year, whether it's in the stands at a football game or walking the grounds of a winery. Both occasions call for comfortable digs, but there's no reason comfort can't be cute or classy.
"For fall, we really focus on basics and comfy clothes for the chilly weather," says Briana Giannone, Co-owner of Briana Central Square. "Also some fun graphics for Sunday Football!"
At Briana Central Square, there are plenty of laid-back tops, perfect for pairing with your favorite leggings or joggers, including loose knits and pullovers from Electric & Rose that are ideal for that first post-beach season. And don't shy away from all things sports. With "Football" and "Varsity" sweatshirts from Project Social T, you'll be channeling your inner athlete — or athletic supporter — in no time.
And while it's the season for football, the Reversible Peace Baseball Jacket at Talk of the Walk — with its navy base and cream sleeves with a chartreuse stripe — is an excellent choice for that first lightweight jacket of the season. Pop it over the ¾ sleeve V-Neck tee with a rhinestone pocket and additional dazzling details for an all-eyes-on-me afternoon. If you're looking for something less bold, but equally cozy, try an oversized crochet knit sweater from Talk of the Walk – it's just the right weight for a fabulous fall afternoon.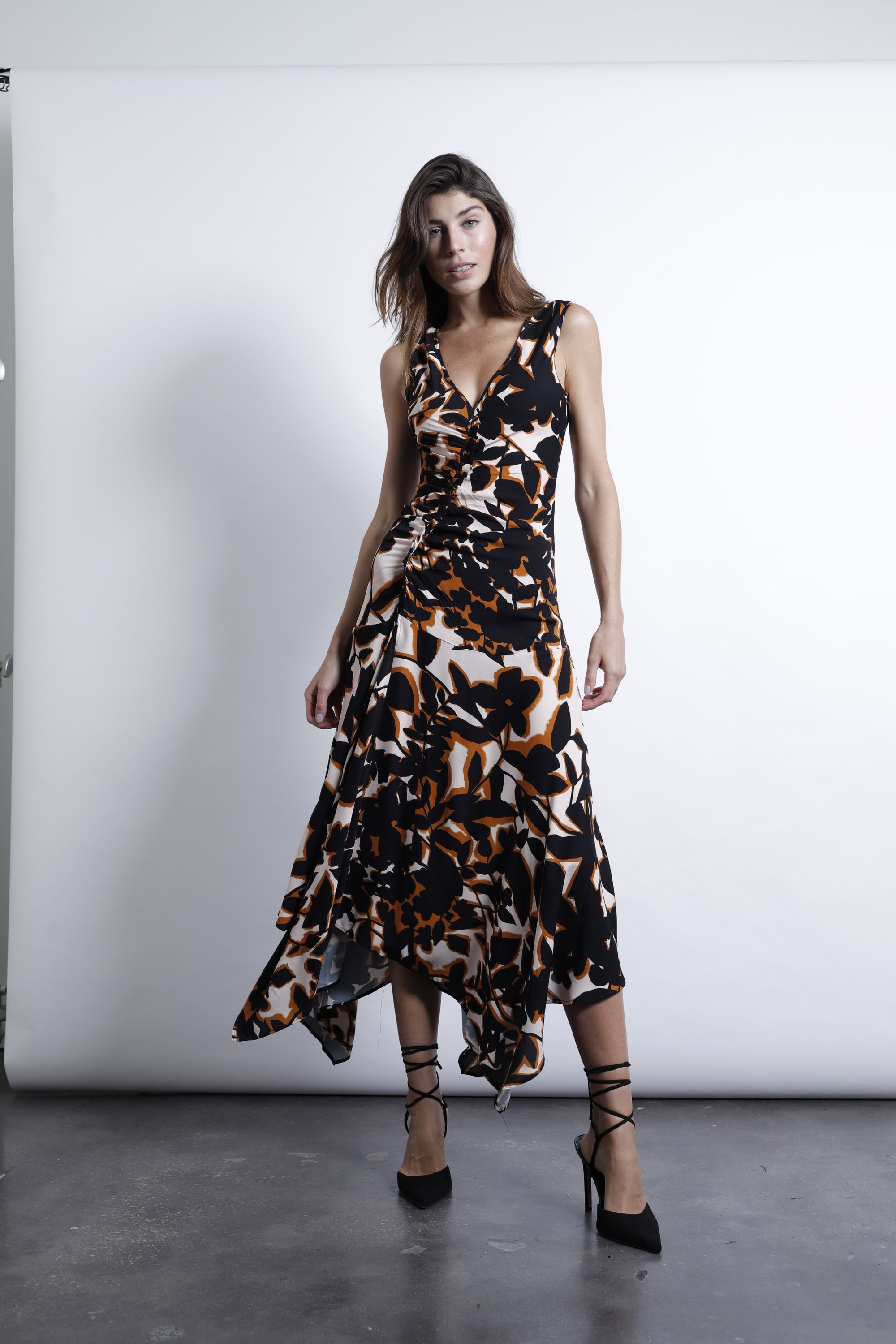 Patterns and Prints in Deeper Colors
Come fall, it's not always chilly. Some days feel practically balmy, but when we're in late September and early October, we want our palettes, if not our materials, to reflect the season. This is why the soft floral prints in some deeper, earthier tones from Briana Central Square are splendid for the fall season. Pair with some strappy heels you've got your go-to fall dinner dress.
At Talk of the Walk, try the exquisite leopard print blouse with Maribou cuffs. Unique and chic, this silky-smooth blouse is a definite statement piece that's bound to make you feel like a million bucks, whether paired with some Frank Lyman jeans or the hyper-versatile black pull-on pants.
Pant Sets and Pant Suits
"Trending this fall will be pantsuits," says Giannone. "We really went for a fun look with this bright pink velvet suit from Karina Grimaldi."
The single-breasted, hot pink suit is exquisite and striking — it could be considered the statement piece of the decade. If the color is too bold for you, try the plaid pantsuit from Gilner Farrar. With wide-legged pants and a tie belt paired with a short matching jacket, the suit is a much more daring spin on a more traditional print.
While pantsuits are great for work or an important event, pant sets are better suited for a casual afternoon out with friends. For those occasions, check out the rhinestone embellished striped teal pant set or the large pearl trim and drawstrings aqua pant set, both from Talk of the Walk. Both in beachy tones, the pantsuits provide a refreshing burst of color to autumn days.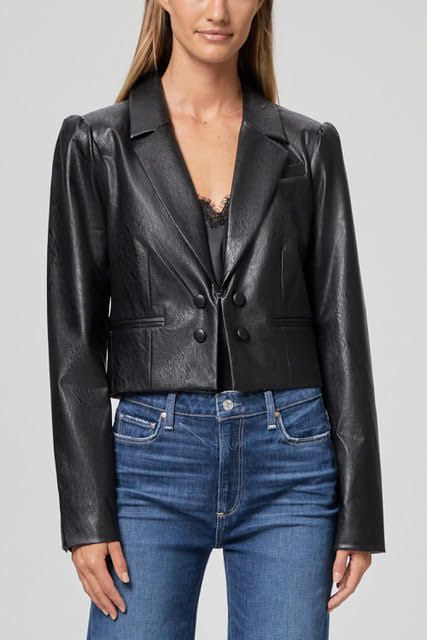 Jackets
It might seem too early to think about jackets, but it's never too early to find a spectacular addition to your fall wardrobe. And with so many options available, plenty of them lightweight, you may just have to get a few.
"We LOVE our jackets here at Briana," says Giannone. "From leather to faux fur and Sherpa, it's going to be hard to pick just one!"
From cropped faux leather moto jackets and oversized fleece vests to knee-length faux Sherpa coats in brown and leopard print, the options are varied and delicious at Briana Central Square. And the options at Talk of the Walk are just as diverse, with a faux leather chain trim jacket with leopard liner and a reversible raincoat with a print of "The Kiss" by Klimt — both your new best friends this fall.
Comments