International artist, Philadelphia-based, Heather Ujiie straddles two worlds, fine artist, and designer. This dichotomy forces Heather to think differently about the outcomes and processes of her work. "As a designer, I have designed textile prints in repeat for wallpaper, fashion, and home furnishing. Design is often about functionality and aesthetics for an interior space, such as comfort, color scheme, scale, and client needs." On the other hand, as an artist, Heather tries to break free from the end-user. Instead, exploration of the unknown and unexpected guide her emotionally charged, often "latent violent" imagery.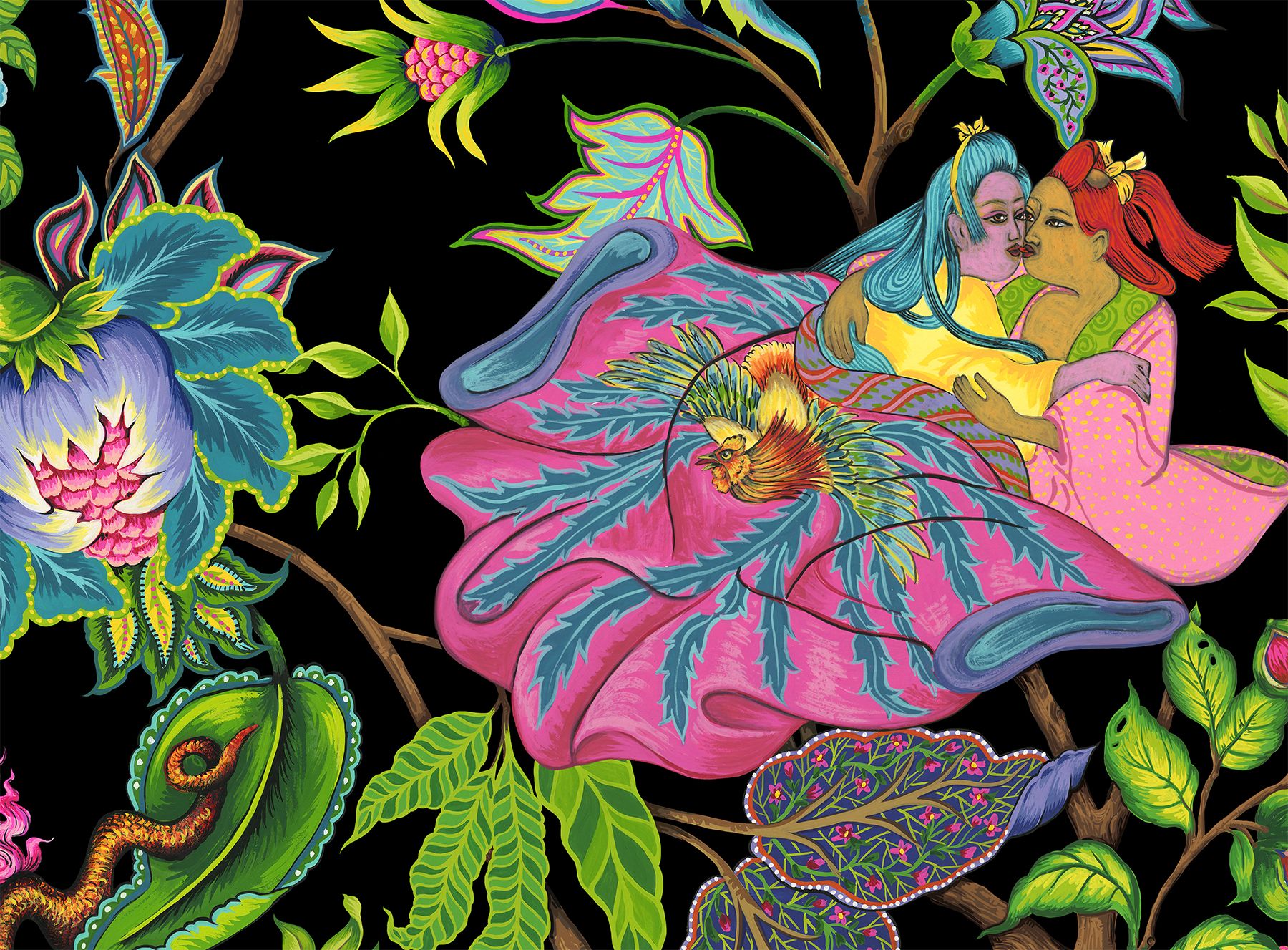 Influenced by her strong background in textile and fashion design, Heather's large-scale installation work combines analog and digital painting, craft, and technology. Like many artists, the motivation to create interesting work often relates to self-examination and seeking answers to questions like, "How do we find love and truth?" "Can we share a common humanity?" "Is there a spirit world?" Built on allegorical narratives, her art is full of raw underpinnings of creative expression. Like the 16th-century Dutch painter Hieronymus Bosch, some of Heather's work examines race, gender, mortality, and gender identity at the juncture of beauty and grotesque. "Much of my work is informed by historic global iconography and nature studies, as well as representations of endangered species, and the current age of the Anthropocene." Anthropocene is the new geologic era marked by the impact of human activity on Earth. Can art lead to a more ecological and sustainable future? This complex relationship between man and nature is not a new battle, but art can ignite deep conversations.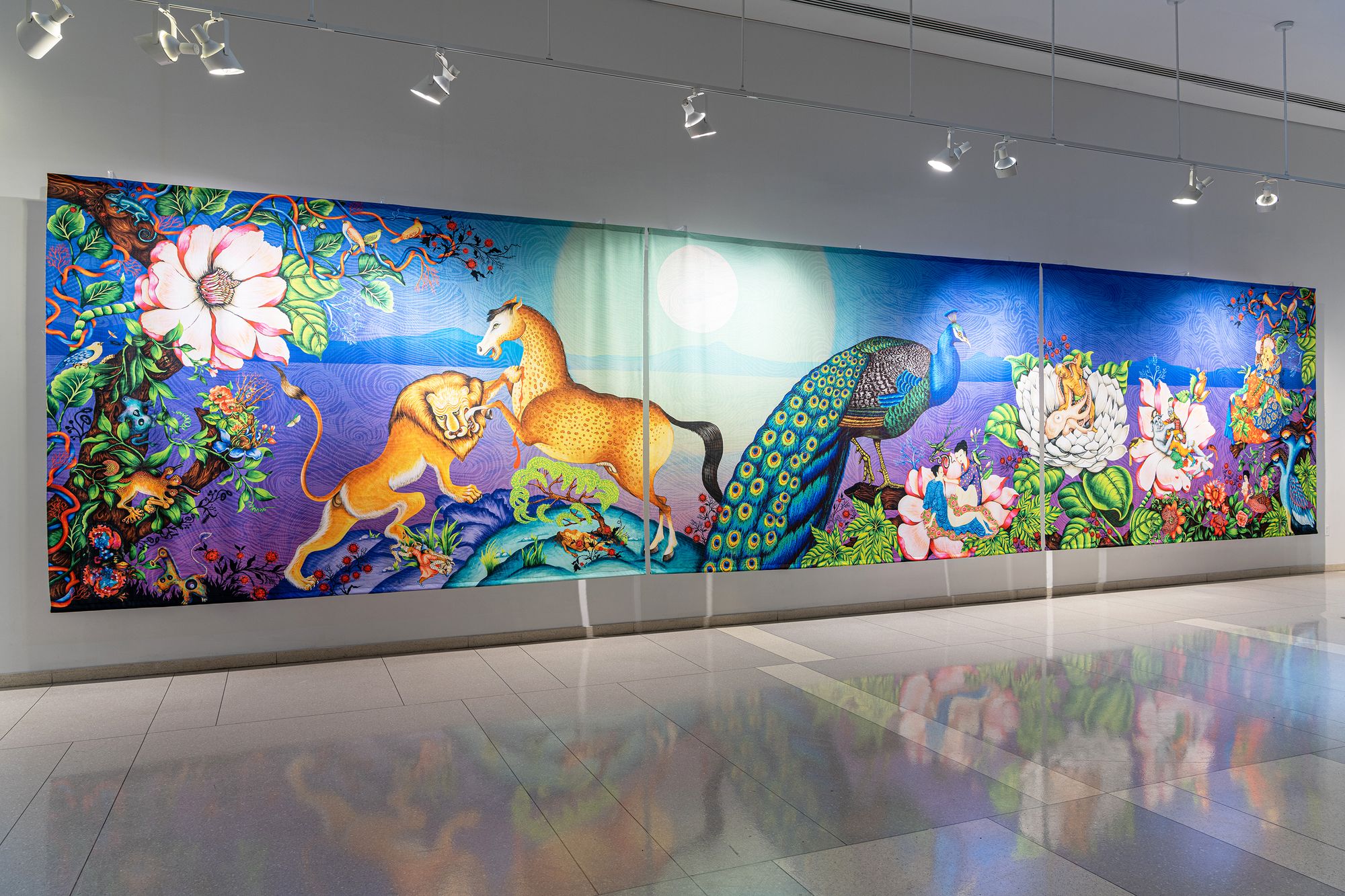 As Heather blurs these boundaries between art and design, it is her hope that the work appeals to a more universal audience where form and function can work together, although the work may be very emotionally charged. Unlike a lot of surface art, her work invites the viewer to generate personal reflection and confrontation. Currently, Heather is working on a site-specific installation for the dining room in the famous Hill-Physick House in Philadelphia. She is designing an otherworldly environment, which includes a dining room table setting for 10, a surrealistic dark forest of giant flora and fauna, and a kind of all-black gothic mad hatter tea party. There will be dreamlike figures, and digitally printed plates, window coverings, and textiles with her own designs. The opening will be in April 2024. https://www.philalandmarks.org/hillphysick .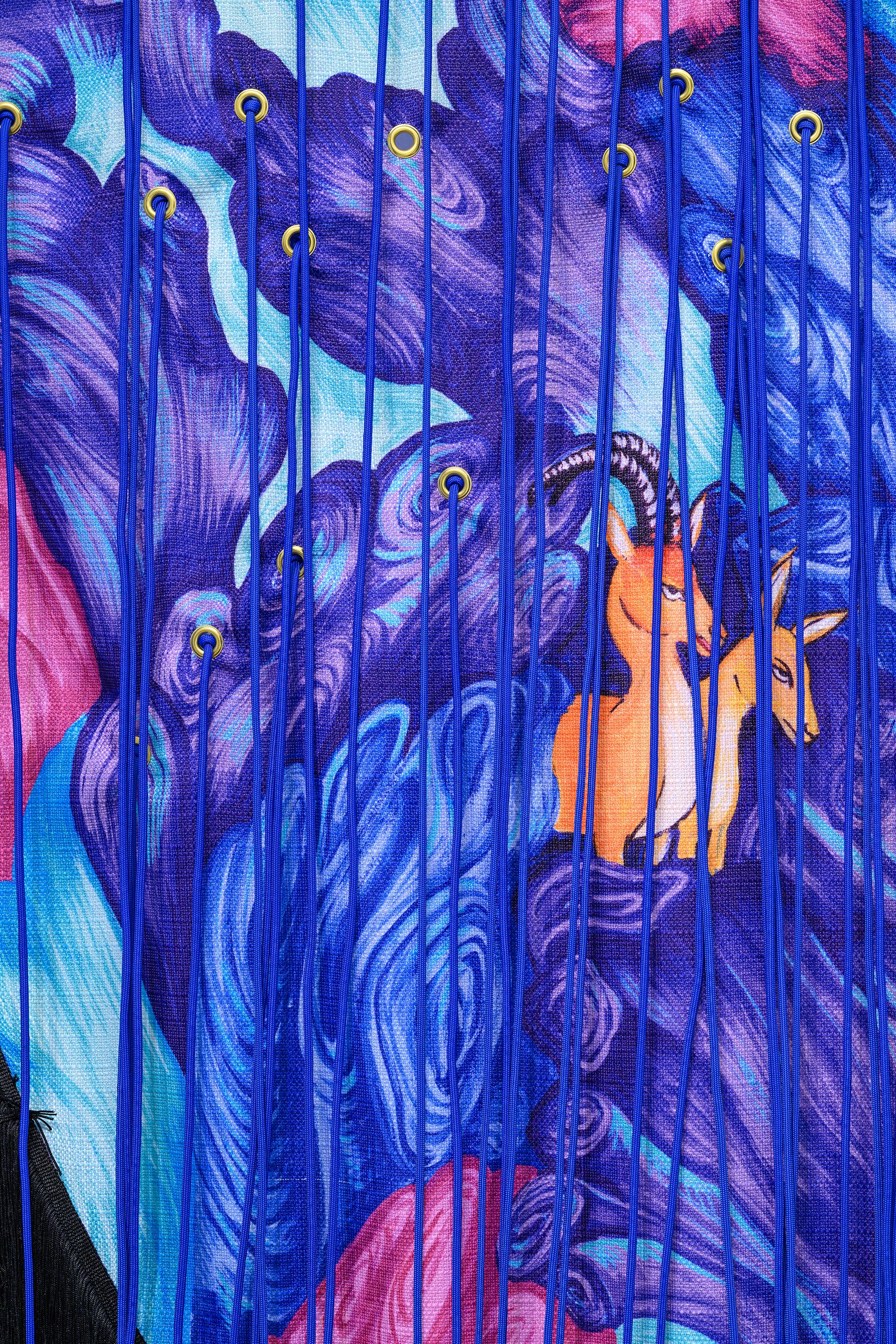 Heather Ujiie grew up in NYC's Greenwich Village, part of a family of artist educators, and believes her creativity comes from a lively bohemian childhood. Currently, she is an Interdisciplinary Associate Professor at Moore College of Art & Design in Philadelphia, and her installations and artwork have been exhibited both nationally and internationally. She has participated in exhibits at the Hangaram Museum of Art, the Seoul Art Center in Korea, and The Salon Art & Design Fair at Park Ave. Armory in NYC, The State Museum of Pennsylvania, Delaware Art Museum, Hunterdon Museum of Art, Racine Art Museum, Delaware Center for Contemporary Art, Philadelphia International Airport, and the Samuel S. Fleisher Art Memorial Museum. Heather holds a Bachelor of Science Degree in Visual Art from the State University of New Paltz, New York, New York State Certification in Art Education K-12 from Brooklyn College, and an Associate degree in Textile Surface Design, from The Fashion Institute of Technology in New York City. She has over 15 years of experience as a textile designer, designing printed textiles for the high-end home furnishing and apparel markets in New York City. Her commercial printed textile designs have had numerous clients including Flavor Paper, and The White House private residences for President George W. Bush and Laura Bush, in Washington D.C. Finally, she has also designed costumes for experimental theater and dance in NYC, including The Julliard School and The Jean Cocteau Repertory Theater in Manhattan.
Comments