By Michael Cagno
Atlantic City is becoming a beacon for the arts in New Jersey. Murals are popping up across the urban scape, cultural institutions are charging forward forging an era of creativity.
The celebrated African American artist Jacob Lawrence was born in Atlantic City in 1917 and known around the globe. However, Atlantic City has also fostered the careers of two other artists born in the early 1900s, Floretta Mostovoy and Attilio Sinagra.
Hailing from New York City, Jewish artist Floretta Schiff Mostovoy, born in 1919, began private art lessons at age eight and graduated high school with a degree in fashion illustration in the middle of the Great Depression.
After working as a fashion illustrator for an advertising agency for several years, Mostovoy met her husband Ira aboard a cruise ship. Together, the couple opened Captain Ira's Bait and Tackle Shop, a fishing supply shop in the heart of Atlantic City's Northside. Here Floretta continued free-lance fashion sketches for local department stores while Ira worked on his photography.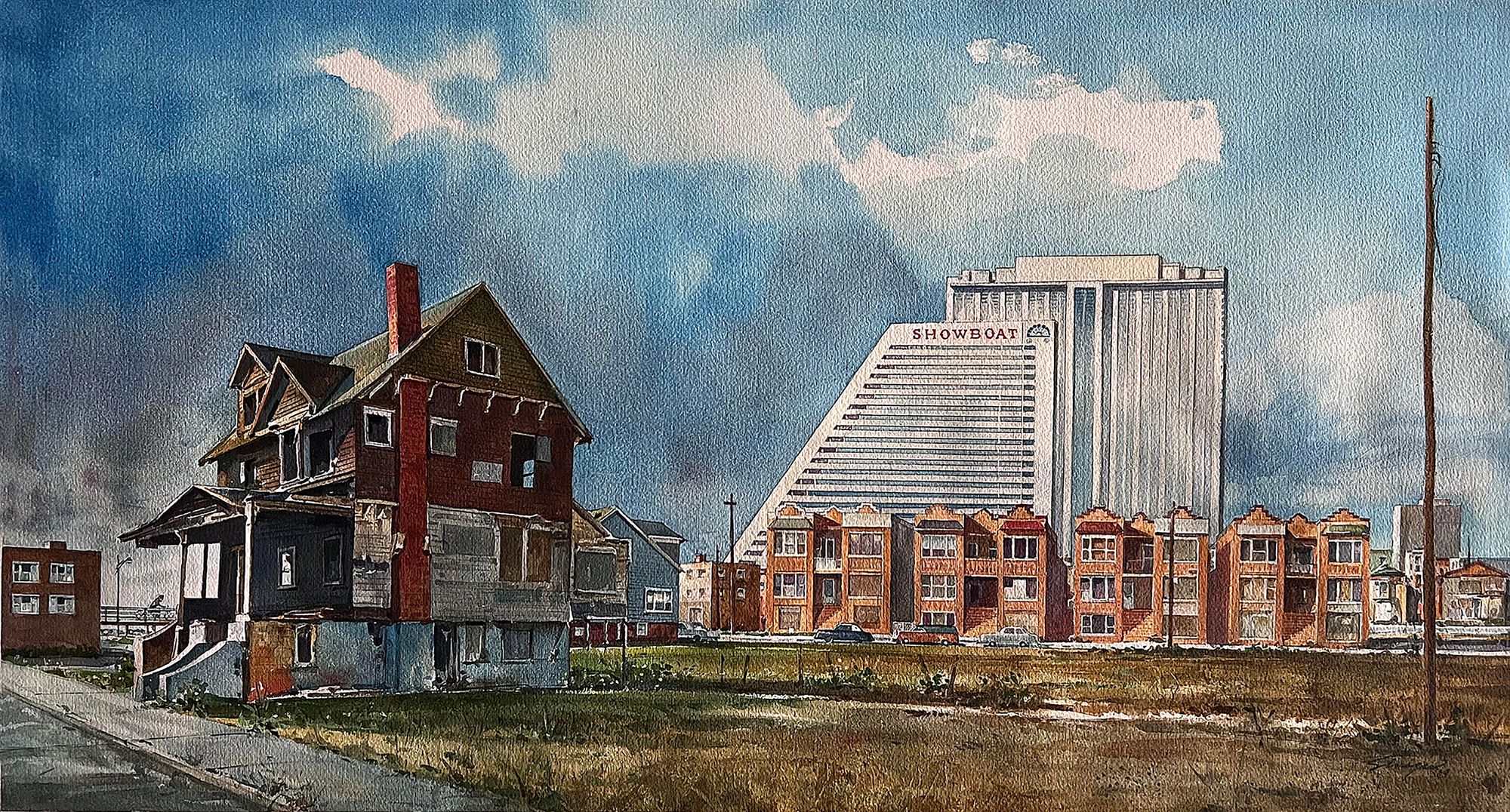 While living in Atlantic City's Northside, Floretta's subjects were usually her neighbors. Her paintings remind viewers of the affinity between Blacks and Jews through their common heritage of oppression and shared fear of random violence. As a charter member of the now defunct Atlantic City Art Center, her work focused on landscapes, figures, and still life's in oils and pastels.  In 1976, Floretta and Ira sold their Atlantic business and moved to Philadelphia. There she continued creating at the Pennsylvania Academy of Fine Arts and the Philadelphia Sketch Club. Like many artists, Floretta traveled to Europe, Mexico, and around the East Coast painting and sketching. Towards the end of her career, Floretta focused more locally on her work in Philadelphia and Atlantic City.
Italian artist Attilio Sinagra was born in 1916 in Atlantic City. Sinagra completed a vast body of work throughout his life, ranging from book covers to internationally shown fine art. As an illustrator, Sinagra perfected the art of capturing the soul of his subjects. This gift, along with his appreciation for beauty, transferred over to all disciplines and bodies of work that Sinagra completed in his lifetime. Under the philosophies of Gerald Celente and Verdi, Sinagra focused much of his life on the redevelopment and Renaissance of Atlantic City. Acting as vice-chairman of the Atlantic City Art Commission, as well as through a series of personal artwork responding to the state of Atlantic City, Sinagra worked to bring Atlantic City back to its former glory.
Attilio Sinagra received his BFA in Illustration from Pratt Institute, studying under illustrators Nicholas F. Riley and Harvey Dunn. Sinagra worked as an advertising and publishing illustrator in New York for thirty-two years, during the peak of commercial illustration. Sinagra's clients included prestigious corporations, publishers, studios, and advertising agencies. Sinagra was also a well-respected art teacher for more than sixteen years, where he taught at his alma mater, Pratt, as well as schools and colleges throughout Atlantic City.
From the time of the Vietnam War, Sinagra was appointed an Official Artist for the US Air Force. He completed assignments to paint his impressions of the war, which required him to travel to the middle of the action on aircraft and on the ground. His sketches from these scenes later informed completed paintings and lithographs that are now part of the US Air Force's permanent collection. The discipline and sense of duty that came from his military background followed Sinagra throughout his life, eventually leading him to platform for the restoration of Atlantic City's beauty as vice chairmen of the Atlantic City Art Commission.
In the last third of his life, Sinagra primarily painted scenes and impressions of his hometown, Atlantic City. These illustrations highlighted the time of transition throughout the city. When Sinagra returned to Atlantic City in 1968, he was dismayed to find that the town he grew up in looked altogether unfamiliar to him. Heartbroken by the mass demolition of charming architecture and Victorian homes on the northeast end of the island, and decaying structures throughout the city, Sinagra felt inspired to improve his hometown. He began to document the changing face of Atlantic City through watercolor paintings, a project that continued until his death in 2004.
Both artists capture a sense of place during the 20th century, the ever-changing landscape of Atlantic City. They draw attention to the connections made while preserving memories.
While Mostovoy explores a sense of belonging and its associated feelings, Sinagra's landscapes resonate with sharp architectural designs and transformation. Both artists have several pieces in the Noyes Museum of Art of Stockton University's permanent collection.
Comments