Vacation is important.
Yet—
As a nation, we first feel guilty for taking a break. Then, feel bad for getting sucked into checking texts or email instead of catching some rays.
Is that because we think idleness is sinful? Or do we fear backlash from our bosses?
To find out, we polled ~900 Americans on their work habits while on vacation.
Read on to see the gems we've discovered.
Key Takeaways
Vacations come with a dose of guilt for 39% of Americans who often or always feel bad about taking time off work.
Just 7% of workers always leave their laptops behind when going on a break.
Nearly 92% of working professionals attended at least one virtual meeting during their most recent time off.
Almost nine in 10 respondents (87%) think bosses should be prohibited from contacting employees during absence unless it's an emergency.
About 90% of Americans have felt pressure to cut their leisurely trip short to return to work at least once in their lifetime.
Half of vacationers (50%) check their work email/messages once or multiple times a day.
Over 85% of staffers have faced negative consequences for being unreachable during their downtime. The most common penalty is exclusion from important projects (18%).
Over 9 in 10 Employees Have Put Vacation on Hold Due to Work
Let's talk data:
Americans took 20.3 days of vacation in 2000. By 2015, that number had shrunk to 16.2 days. Fast forward to today, and we're looking at an average of 14 days off per year.
How do Europeans stack up? They take a mighty 24 days.
Ouch.
So when we asked survey respondents if they'd ever canceled OR postponed a vacation because of work, we weren't surprised that 93% said, "Yes."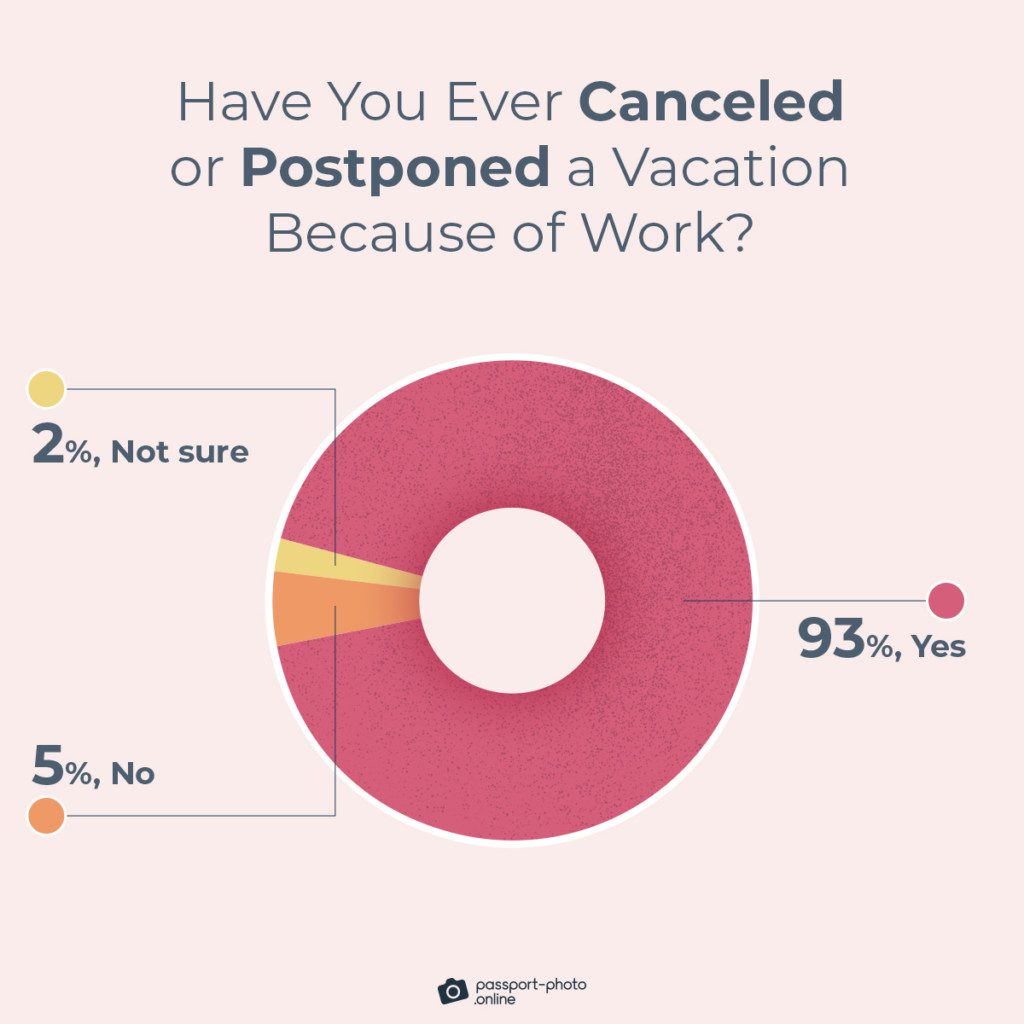 The problem?
If you keep your foot on the gas and subject yourself to a continuous workload, your brain will push back.
A Cleveland Clinic draws a parallel between the brain and a sponge. It can only soak up so much information before it needs time to dry. Otherwise, tasks that were once a breeze become excruciatingly difficult.
So—
To ensure your brain is firing on all cylinders (another car metaphor, sorry), give it rest from time to time.
Key Reasons Why We Say "No" to Time Off
It's not uncommon to picture oneself jetting off to an exotic location, lounging on a sun-kissed beach, and sipping tropical cocktails.
But—
When it's time to book a trip, there's sometimes a moment of hesitation or even guilt.
Take a look:
| Do You Normally Feel Guilty About Taking Time off Work for a Vacation? | Women | Men |
| --- | --- | --- |
| Never | 6% | 9% |
| Rarely | 15% | 18% |
| Sometimes | 39% | 33% |
| Often | 15% | 12% |
| Always | 26% | 27% |
Now, here's what drives Americans to (temporarily) forgo some R&R.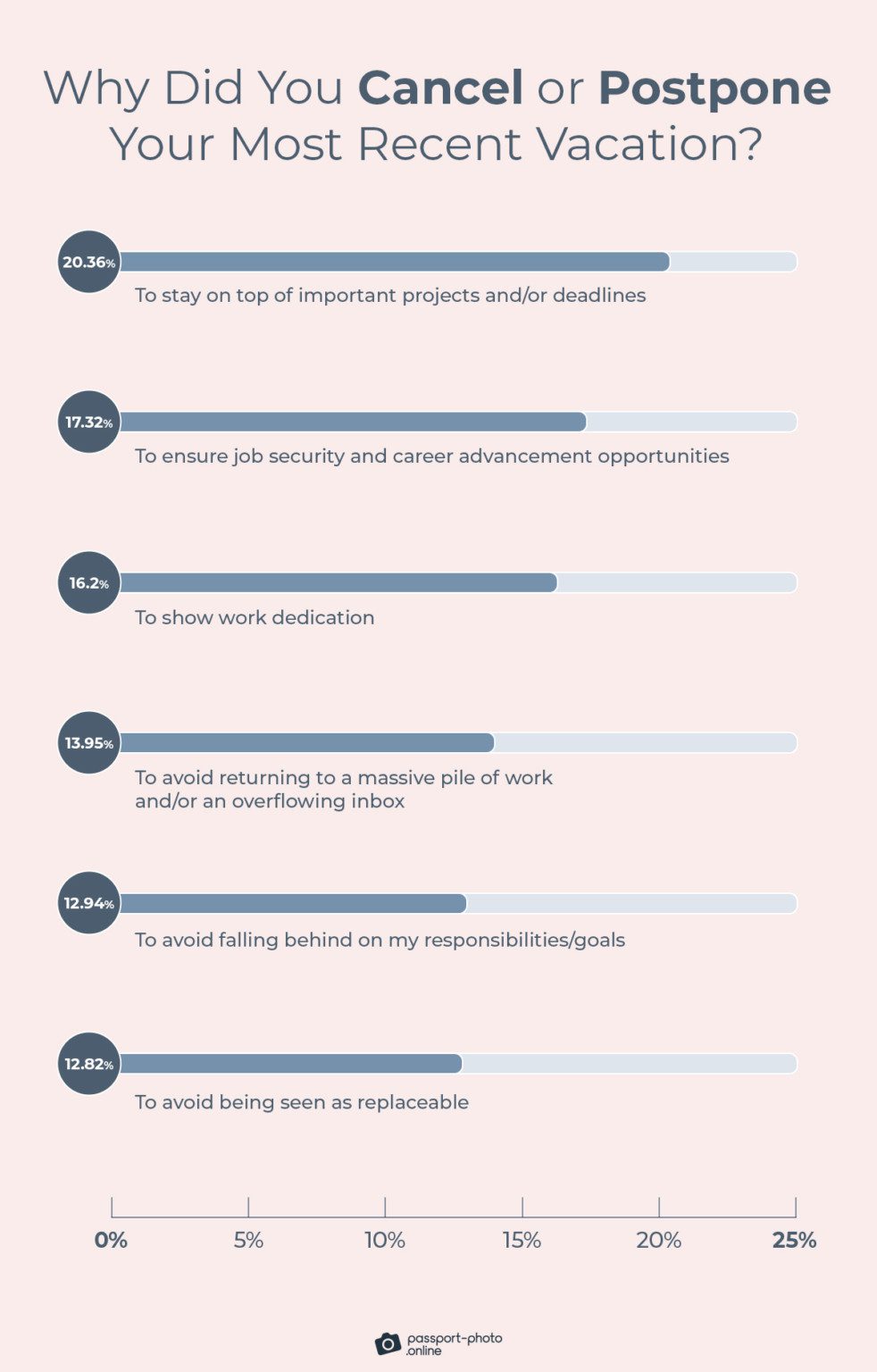 As you can see, the #1 reason to cancel or postpone a vacation is "to stay on top of important projects and/or deadlines" at 20%. It's closely followed by ensuring job security and career advancement opportunities (17%) and showing dedication (16%).
It seems there's a shared belief among employees that being a work martyr is key to success.
But—
The reality proves otherwise.
Consider a study from the US Travel Association of 5,64 Americans on time off and vacation usage.
Its findings show that professionals who take <10 days of PTO have a 34.6% chance of receiving a raise or bonus. In contrast, those who take 10+ days off have a 65.4% chance.
Put another way, you're 30.8% more likely to get a raise if you take 11 or more days of PTO.
That's right.
Do you need passport photos? Find out more:
Laptop Lugging Has Become the New Normal
Think back to your last vacation.
As you packed your sunscreen and a pair of shades, did you also find yourself squeezing in your work laptop?
If so, you weren't alone: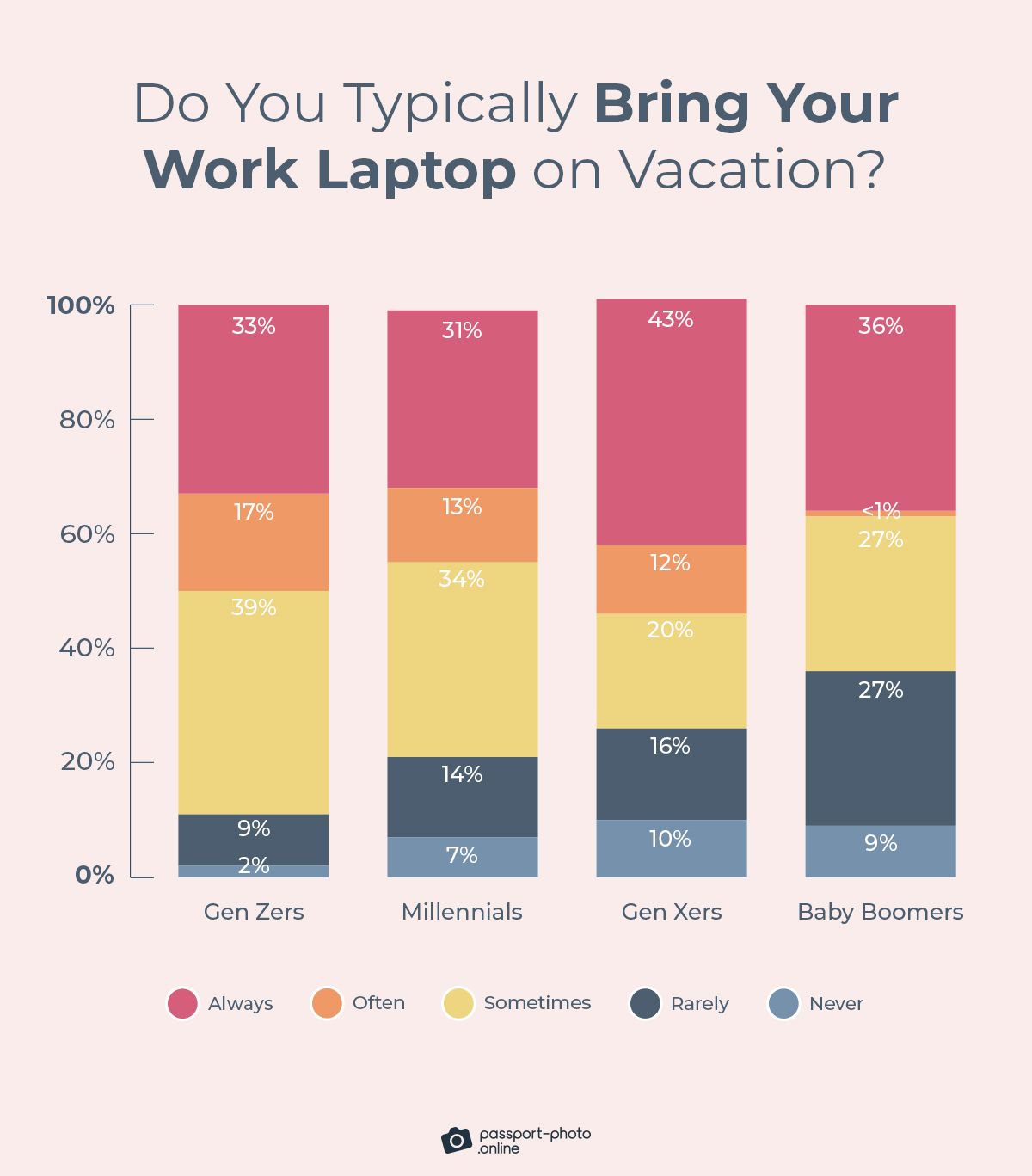 The data shows that an average of 12% of workers never or rarely bring work laptops on vacation. The remaining 88% sometimes, often, or always take them along.
It's a lot.
As a follow-up, we asked survey takers how often they check work email/messages while on vacation.
Below are the results:
| How Often Do You Check Work Email/Messages While on Vacation? | Women | Men |
| --- | --- | --- |
| Multiple times a day | 23.21% | 20.15% |
| Once a day | 31.25% | 28.42% |
| Every other day | 20.54% | 20.3% |
| Once a week | 20.09% | 21.8% |
| Never | 4.91% | 9.32% |
Finally, we wanted to examine how common it's to attend work-related virtual meetings during downtime.
Have a look at the data: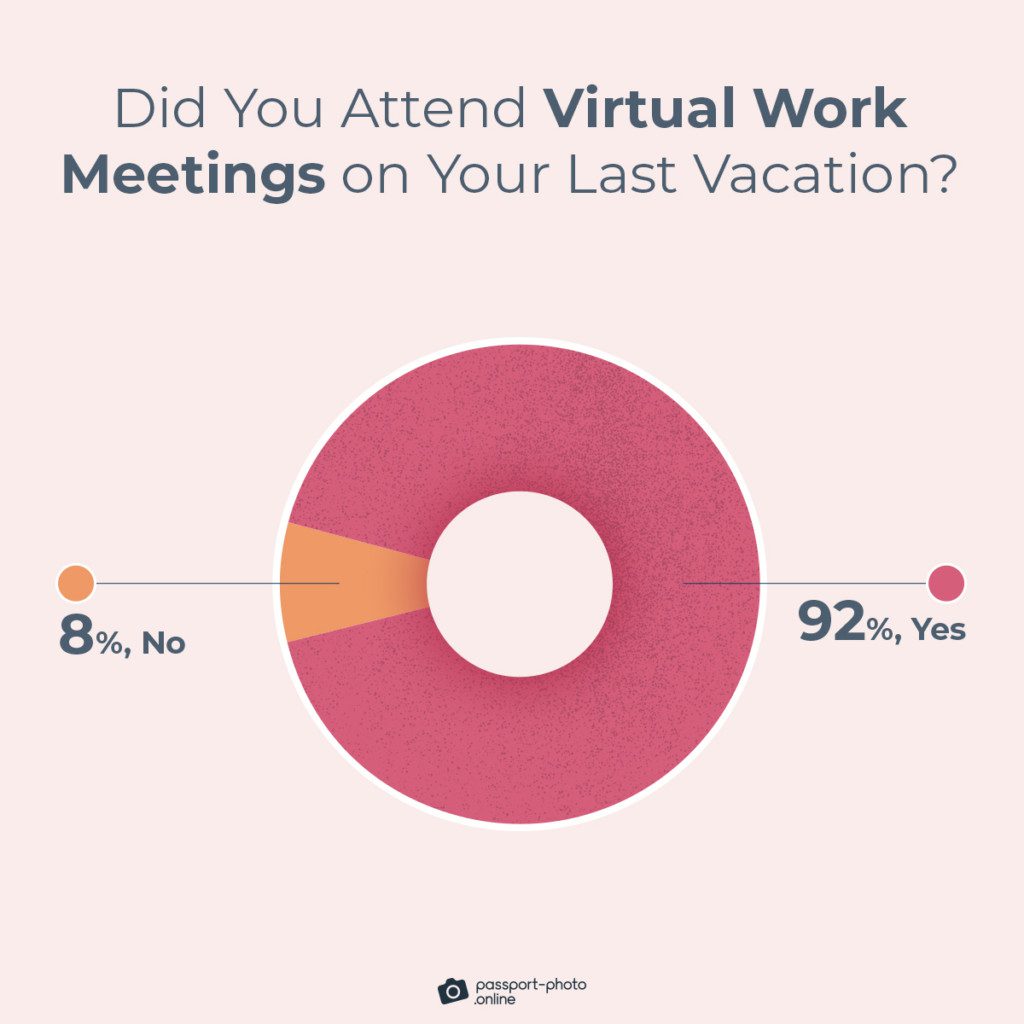 Yet—
This sort of continued connection doesn't do much favor.
After all, working on a break for just one hour daily can make you 43% more likely to have a problem remembering your vacation, according to a study from the University of Texas and vacation rental site HomeAway.
So employees, take note!
Most Bosses Expect Workers To Be Reachable While on "Unplug"
Did you know?
Several countries have taken action to ensure workers get a break from work.
France is leading the way with the "right to disconnect," a law that requires companies to establish designated periods when employees aren't obligated to send/receive work emails.
You might already be familiar with it thanks to Netflix's "Emily in Paris" series.
Spain, Italy, Portugal, Germany, and Scotland are following suit.
But—
When it comes to the US, we're still lagging with no such legislation yet in place.
The result?
A full 89.76% of pollees say their employers expect them to check or respond to work-related emails, messages, or calls while on vacation.
It gets worse.
When we asked American employees if they'd ever felt pressure to cut their vacation short to return to work, 90% answered in the affirmative: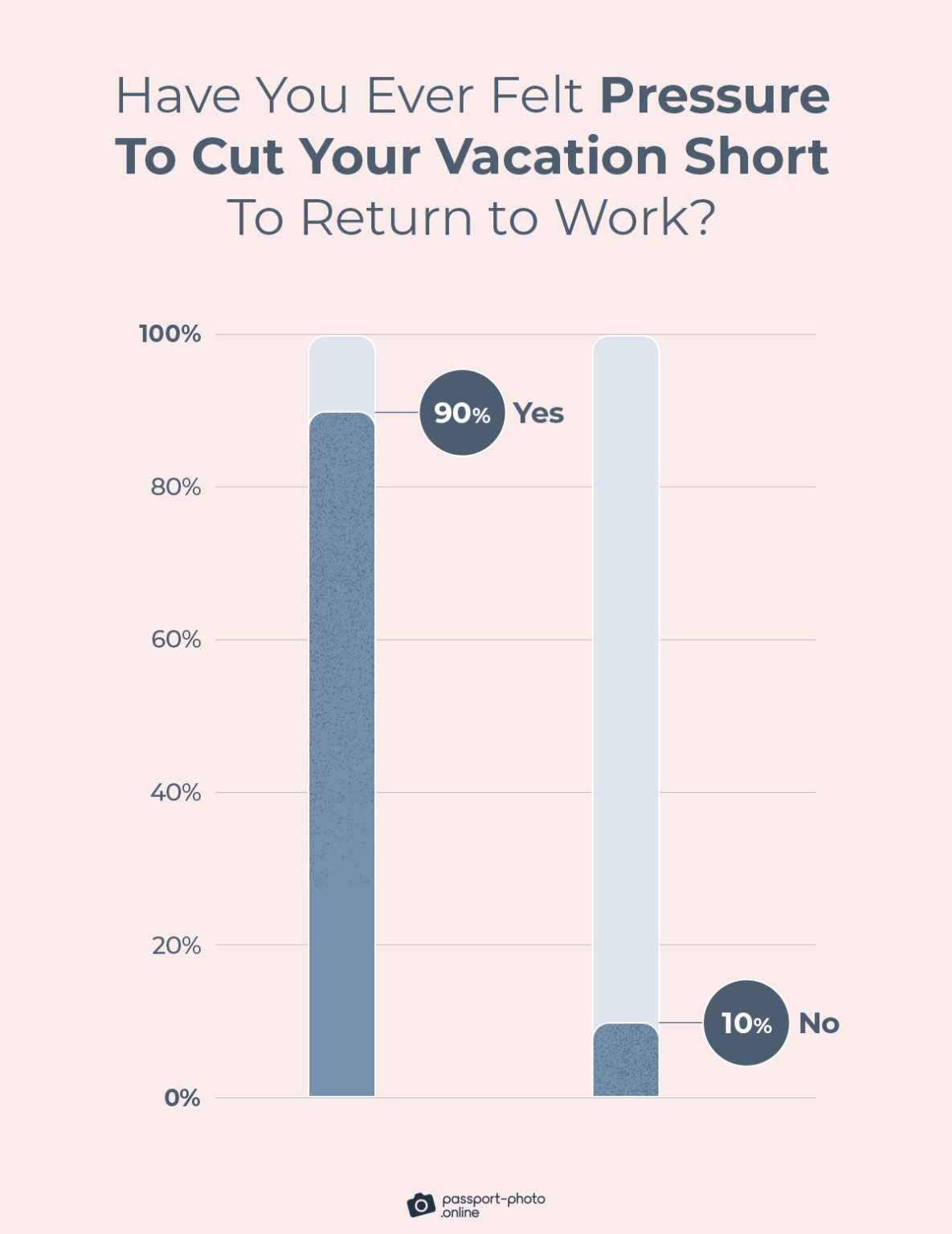 Whether that pressure was real or imagined, it reflects a need for more robust vacation policies in North America.
That's further proven by 87% of respondents who agree or strongly agree that employers should be forbidden from contacting employees on vacation unless it's an emergency:
| "Employers Should Be Forbidden From Contacting Employees on Vacation Unless It's an Emergency" | Share |
| --- | --- |
| Agree | 62% |
| Strongly agree | 25% |
| Neutral / No opinion | 12% |
| Disagree | 1% |
| Strongly disagree | 1% |
Perhaps it's time to take a cue from our European colleagues?
The Vast Majority of Workers Have Faced the Music Over Being Unreachable
At this stage, we wanted to gauge if workers have ever experienced repercussions for not responding to work emails, messages, or calls during their time off.
Let's have a look at the results: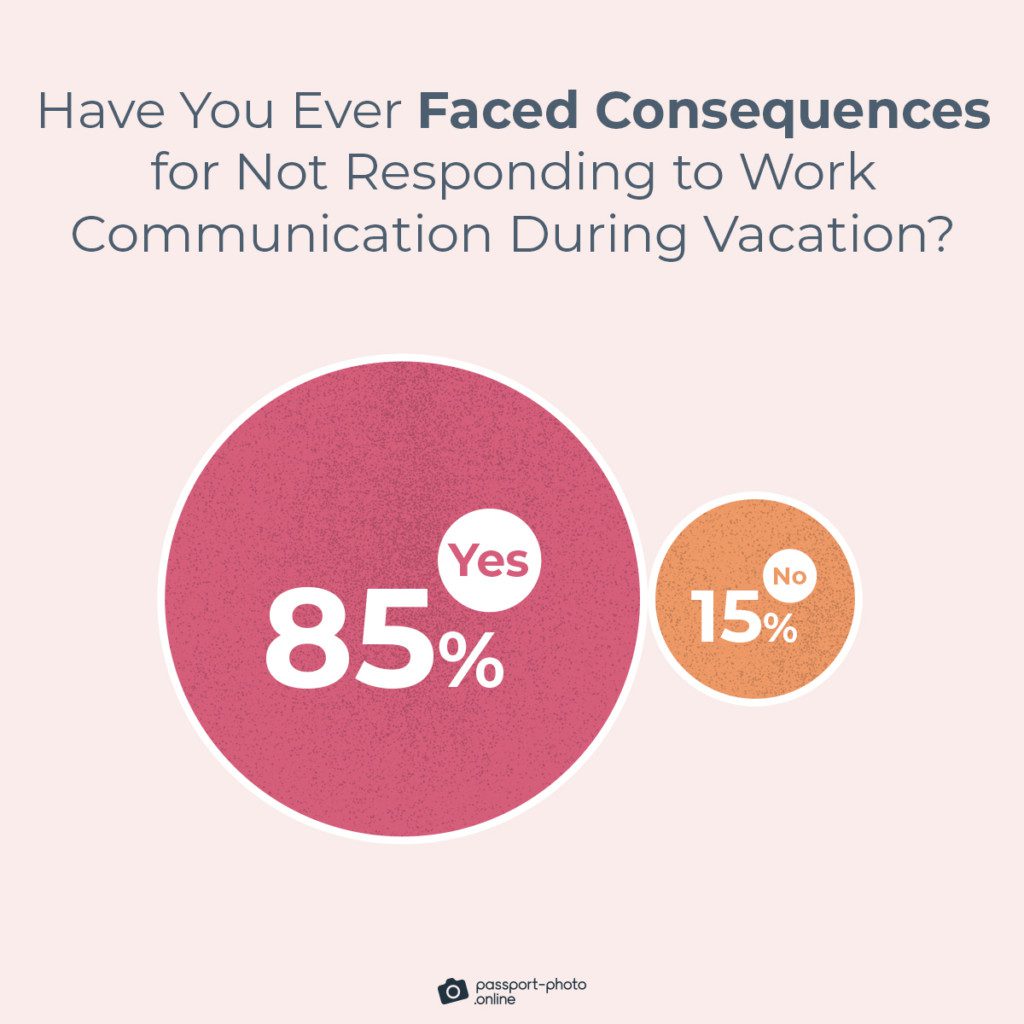 Here's what form the repercussions typically take:
| How Were You Penalized for Being Unreachable While on Vacation | Share |
| --- | --- |
| I was excluded from an important project | 18% |
| I had to complete additional work on my return | 17.66% |
| I was passed over for a promotion | 16.99% |
| I received a warning from my boss | 16.99% |
| I was given a poor performance review | 14.06% |
| I lost out on a raise | 6.07% |
Yikes.
It's now easy to see why so many of us stay in the conversation during absence.
Stacking It All Up
There you have it.
A comprehensive look at America's work habits on vacation.
Now—
Do you feel your employer expects you to be reachable while on a break? Have you ever faced backlash from colleagues or managers for not responding to emails, texts, or calls?
Let us know in the comments below.
Methodology
We conducted an online survey of 889 US respondents via a bespoke online polling tool in March 2023.
The respondents were 74.8% male and 25.2% female. 10% of respondents were 26 or younger, 75.8% were aged 27–42, 12.9% were aged 43–58, and 1.2% were 59–68.
This survey has a confidence level of 95% and a margin of error of 3%. Given the gender and age makeup of our sample size, the study's findings are statistically significant for the population at large.
This study was created through multiple research steps, crowdsourcing, and surveying. Data scientists reviewed all survey participants' responses for quality control. ​​The survey also had an attention-check question.
Sources
Gielan M., Achor S., "The Data-Driven Case for Vacation"
Gordon N., "This $8 Billion Startup Is Fining Employees $1,200 for Contacting Colleagues on Vacation"
Skynova, "Vacation Time Around the World"
Zetlin M., "Why Taking Time Off Is Good for Your Brain
Max Woolf is a writer and travel lover at Passport Photo Online. His insights, advice, and commentary have been featured in Forbes, Inc., Business Insider, Fast Company, Entrepreneur, BBC, MSN, NBC, Yahoo, USA Today, Fox News, AOL, The Ladders, TechRepublic, Reader's Digest, Glassdoor, Stanford, G2, and 300+ other outlets.
Content published with permission of https://passport-photo.online
Let us know what you do to disconnect.
Please subscribe to stay in touch.
Comments