On any given day, the aroma of garlic and homemade sauce wafts through the air from Barrels of Margate. However, it all began in the 1950s in a corner taproom on 18th & Sigel Streets in South Philly. John Franco, better known around the neighborhood as "Johnny Barrels," a nickname originating from his rotund physique, opened a business to serve food and drink the way he liked it – authentic and plentiful. Jennie Franco, his wife, prepared most of the meals, like her famous meatballs, homemade soups, and hearty sandwiches topped with freshly cut Provolone cheese, sautéed broccoli rabe, or fried long hot peppers.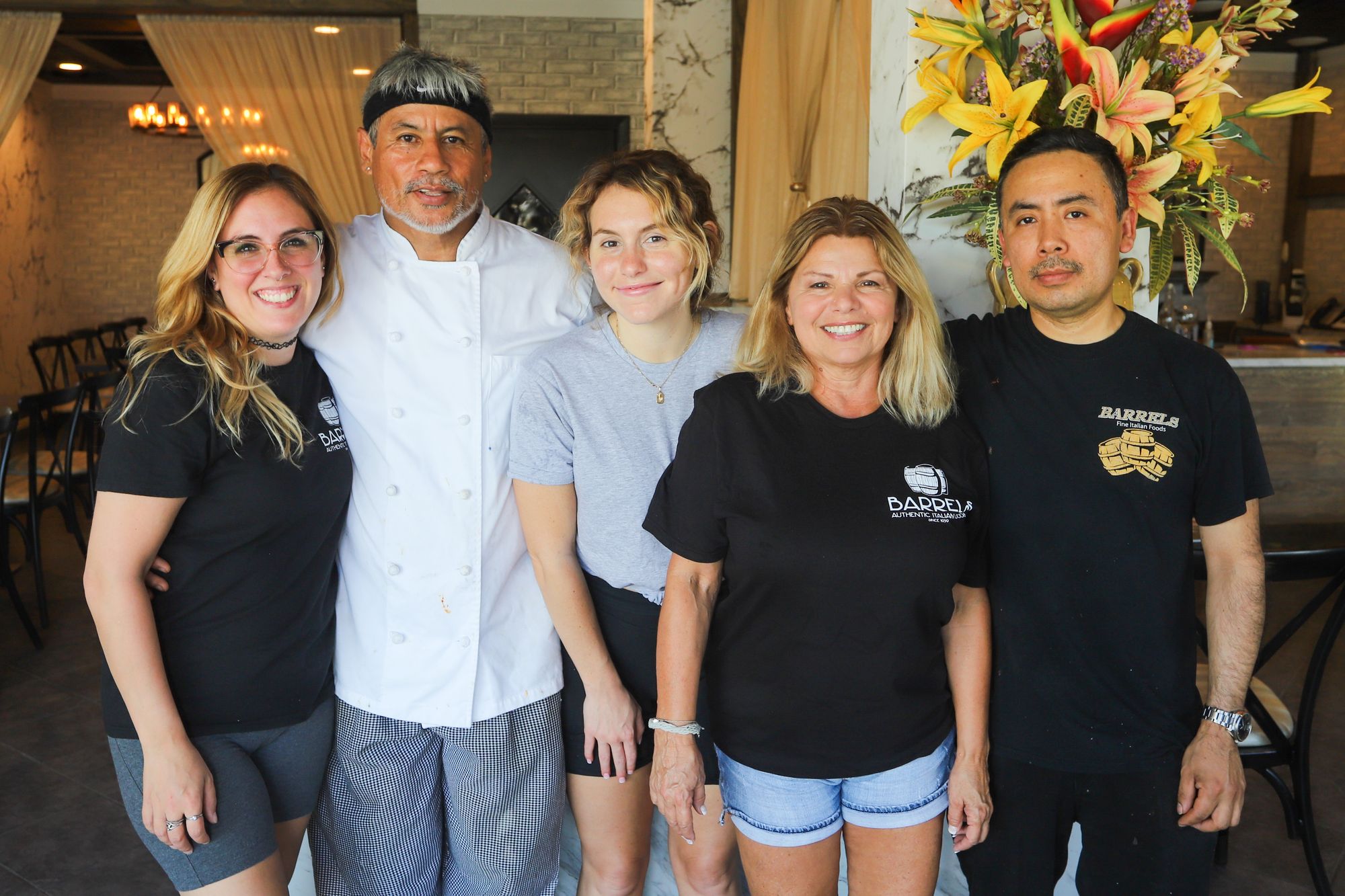 A Family Affair
Business was good to the "Barrels" family, and the family was good to its customers. By the 1970s, the simple sandwich and beer menu gave way to more elaborate entrées like Veal Picante and Shrimp Scampi. Even the restaurant itself was remodeled to add a dining room with additional tables, and built by a family member, of course - Anthony "Dukie" Gualtieri.
After Johnny "Barrels" passed away in the 1980s, several family members started to branch out with their own Barrels-type restaurants in the South Philly area, as well as in several Jersey shore locations, including Wildwood, Ocean City, and Margate. Seven decades and four generations later, the family is still in the restaurant business and continues to use the "Barrels" nickname.
Today, the matriarch of the "Barrels" family is Rosie, the oldest daughter of Johnny and Jennie. Behind the scenes, helping maintain the family legacy, Rosie's son and Johnny Barrels' grandson, Peter Gualtieri, keeps the name, reputation, and the family theme going. Gualtieri explains how the family that restaurants together stays together, "As a matter of fact, on one summer Saturday at the Margate location, we had over 20 family members through four generations all working the same day - from my grandmother to my mother/uncles to my brothers/cousins to my children/nieces/nephews."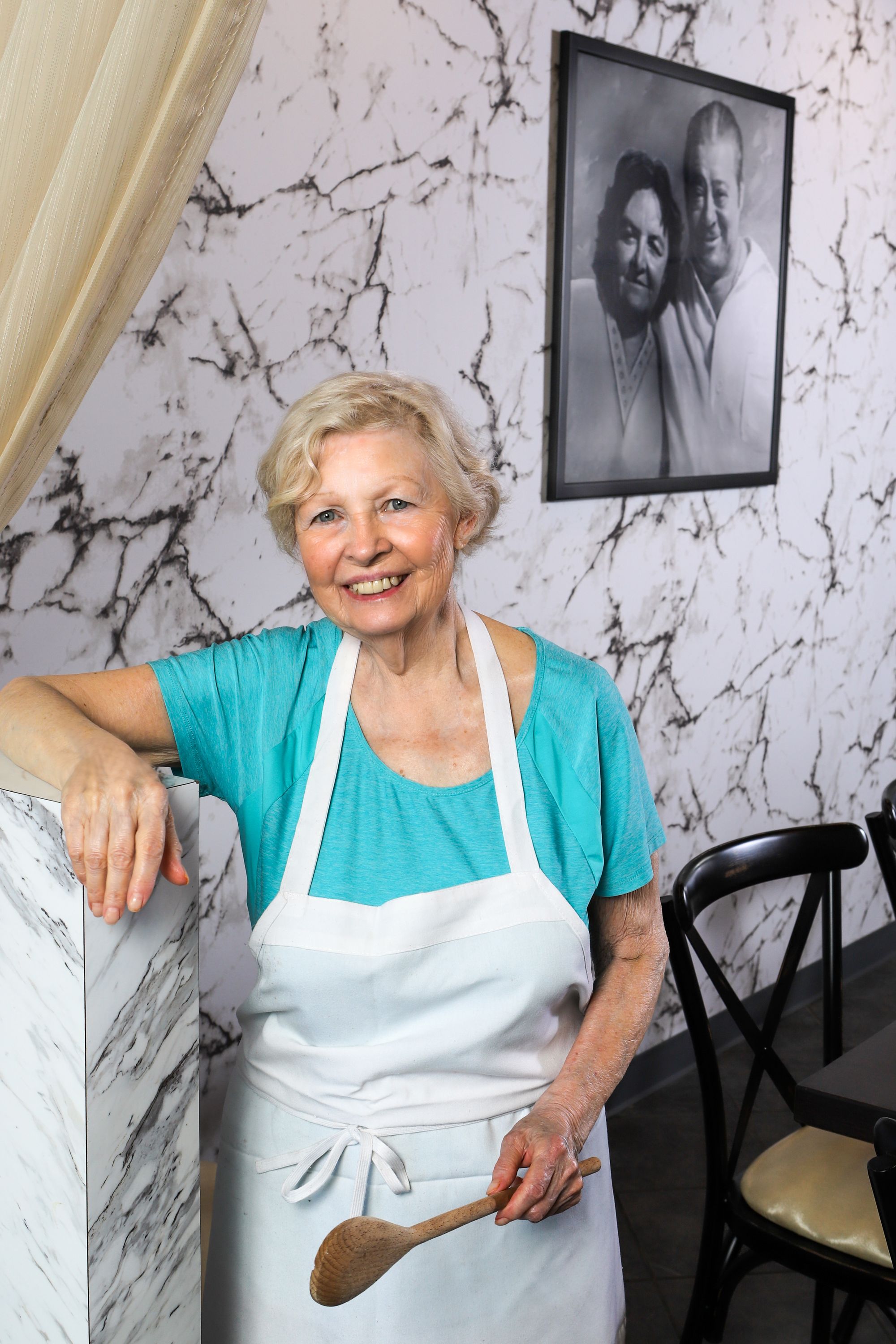 To the Shore
In 1993, Gualtieri's mother, Rosie, opened up Barrels in Ventnor. It was mostly quick, take-out Italian food to accommodate young casino professionals living in the down beach area. The business grew exponentially in its first three years – thanks to Rosie's authentic recipes like homemade soups, chicken parmesan, and gnocchi. Rosie also added new salads to her traditional menu, like the Summer Breeze – a Spring mix, mozzarella, and seasonal fruits. One of the top sellers was and continues to be Rosie's famous meatballs. Gualtieri proudly boasts, "My mother won a meatball contest at the casinos competing against many top chefs."
In 1996, after "Dukie" Gualtieri passed away, Rosie partnered with her four sons - Anthony, Peter, John, and Chris to move the restaurant from Ventnor to a larger, sit-down dining room on Granville Avenue in Margate. At that point, the family introduced more specialty entrees, including Red Snapper Pomodoro – pan-seared and topped with butter, garlic, diced tomatoes, capers, and white wine.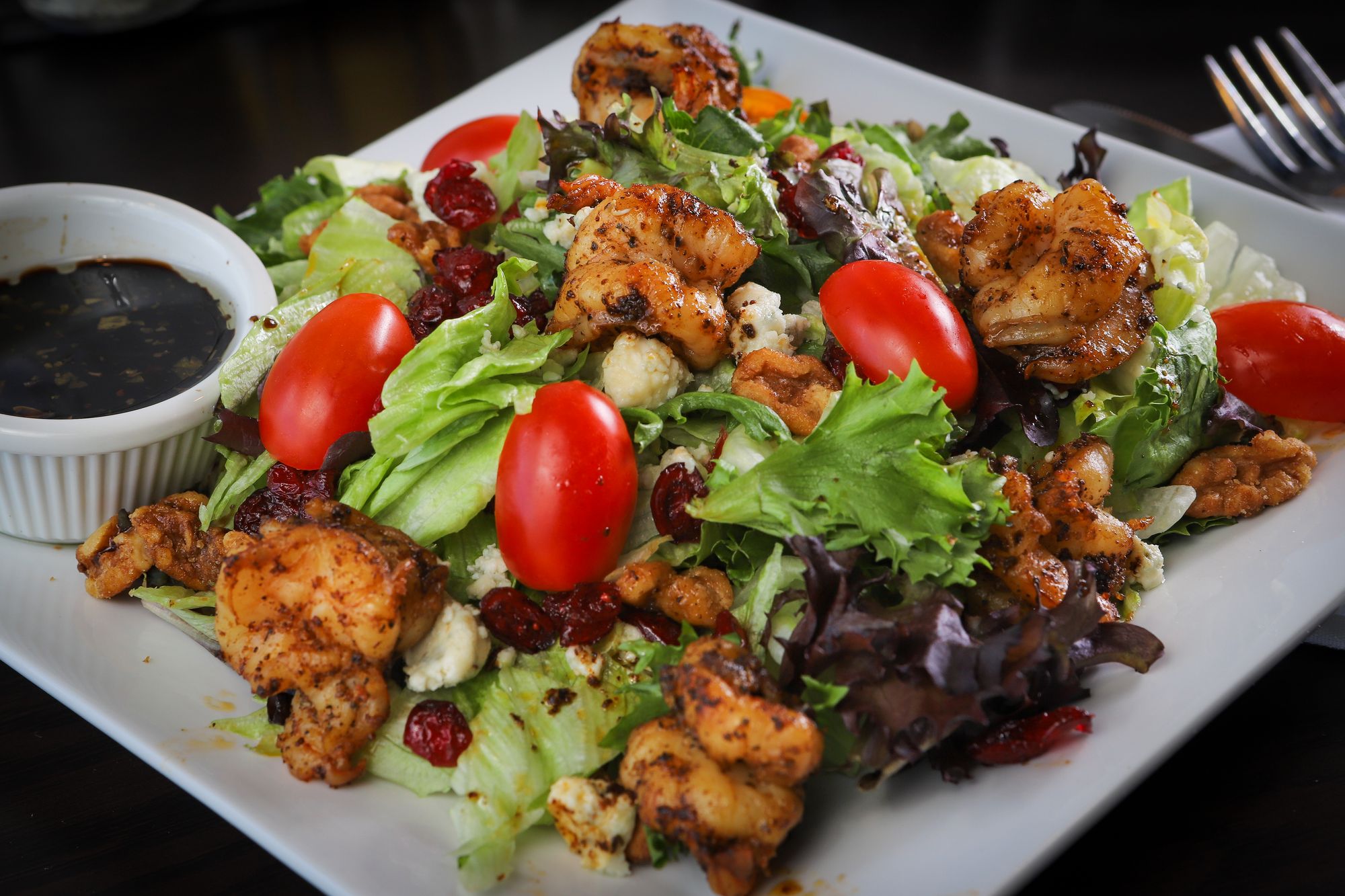 Old School & New School
In 2015, the family moved Barrels to its current location on Jerome Avenue in Margate – offering patrons outdoor and indoor dining in addition to take-out, delivery (including the beach), and catering. To meet the ever-changing demands of their customers, Gualtieri keeps the menu current by adding "gluten-free" pasta options, as well as several low-carb entrees like the Eggplant Lasagna – Pasta-free, but stacked with eggplant, cheeses, and smothered in Barrels' thick, hearty homemade red sauce (AKA gravy).
While always striving to add new items to the menu, Barrels remains true to its traditional offerings - meatballs, soups, and chicken parmesan continue to be their best-sellers. According to Gualtieri, Barrels remains very conscientious of what to keep on their menu and what to add. "Our goal is to provide loyal and new patrons with an opportunity to enjoy both the many 'old school' traditional dishes as well as new dishes."
In addition to standard menu items, Barrels offers weekly specials. The best way to see what's new is to check their website. For example, you may see items like Veal Chop Parmesan, Beef Short Rib, select homemade pasta, and healthy vegetarian options as well. The updated take-out menu added new items such as Scallops Puttanesca, Chicken Cutlet Asiago Sandwich, Italian Chips (chicken nachos), and homemade pizza dough topped with a San Marzano sauce. And, speaking of sauce, Gualtieri connects his family history to the restaurant once again, "San Marzano tomatoes are from the Salerno province where my grandmother Jennie's family immigrated from – bringing the old back to the now."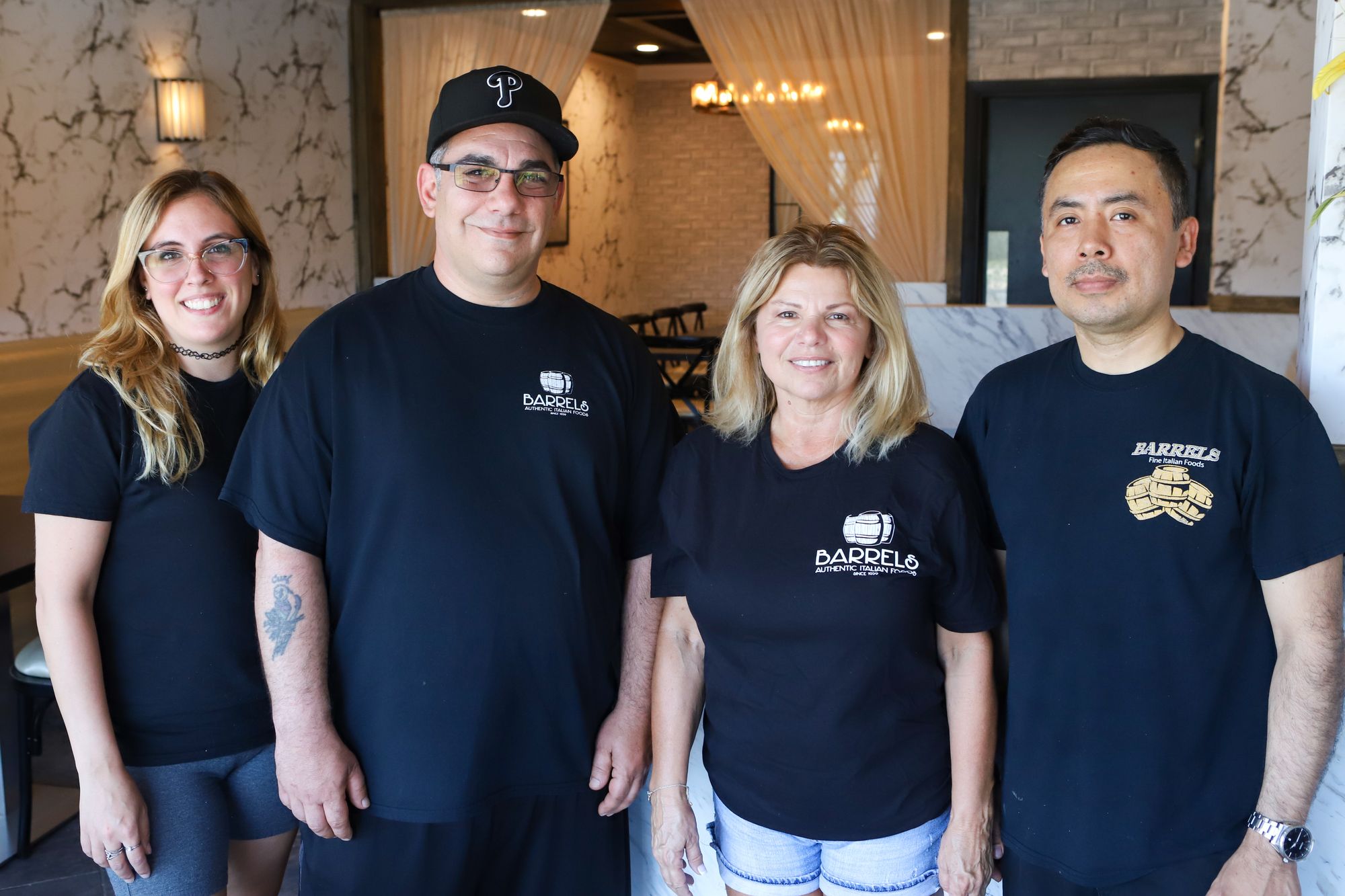 Delicious – By the Barrels
As soon as you enter Barrels of Margate, you feel the family spirit – in-person to seat you or on the enlarged family photos adorning the walls of their recently renovated dining room. Gualtieri doesn't need to think twice as to what keeps Barrels in the restaurant game. He quickly explains, "The key differentiator in any business that survives over seven decades is the people – both family and staff that we consider family." For example, several cooks at Barrels are into their third decade, as well as some second or third-generation staff members. Chef Jorge, the current head, is the nephew of one of the original Barrels chefs from 1993.
As for family, Gualtieri hopes to groom a fifth generation of family members (almost of working age) to continue the legacy to pass on to their patrons. Shirley Chalick, a loyal Barrels customer, appreciates the authentic history and quality of their dishes. Chalick considers Barrels her "go-to" choice for celebrations and special dinners because "…the food is always excellent and the waitresses are so friendly. You want to ask them to sit down and eat with your party. My favorite entrée is the Shrimp Scampi over Linguine, sautéed in garlic, butter, and wine – just mouthwatering!"
Comments